A Quick Guide To Detrack Version 2.0
23 February 2015 |
6
minute
read
Download The Latest Detrack v2.0 App!
Important Note: Please download the latest version (v2.0.3 at time of writing this blog post) of Detrack Proof Of Delivery POD app from Google Play for the most optimal app performance. Click here to view it on Google Play
Update (6th Jun 2015):
 Now available on 
App Store
 too!
We are excited to announce the immediate availability of Detrack v2.0. In this update, we've released more than 20 new features designed to ease your workload and improve your delivery rates.
While we prepare new comprehensive guides for you and your drivers to maximize the use of our Detrack v2.0, here's a quick guide on how to use some of the key features of this release: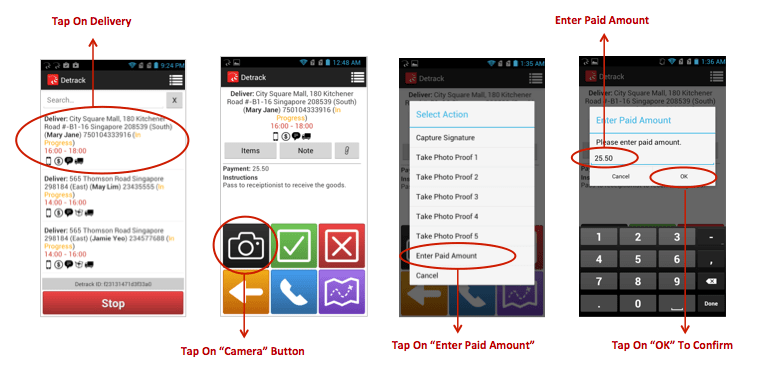 Detrack's enhanced COD (or Payment-On-Delivery) support includes a new home screen icon, audio reminder and the ability to enforce driver to enter payment amount for cash collected.
To enable payment input, enable the field via Settings > Delivery Settings > Fields > Payment Amount
To enforce entering of amount collected, enable the option via Settings > Job Settings > POD > Driver Must Key In Payment Amount
To show payment amount collected on POD, enable the field via Settings > Delivery Settings > Fields > Export Fields > Payment Collected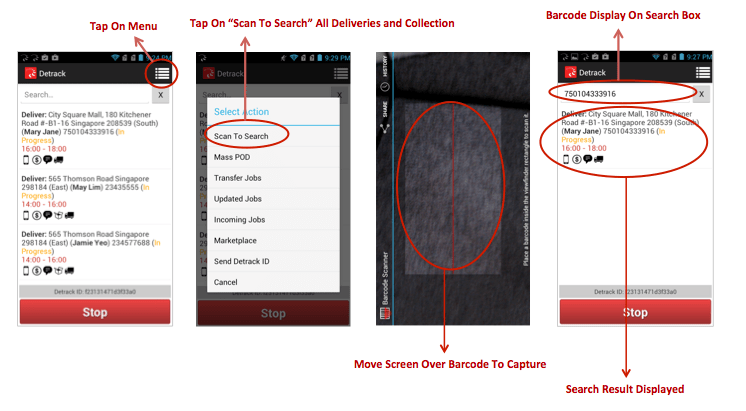 You can now scan any barcode / QR code to quickly search against the list of your jobs. Your driver can use this to verify if the parcels he is picking up is actually assigned to him, assuming the barcodes on the parcels represents the D.O. # or any of the searchable fields.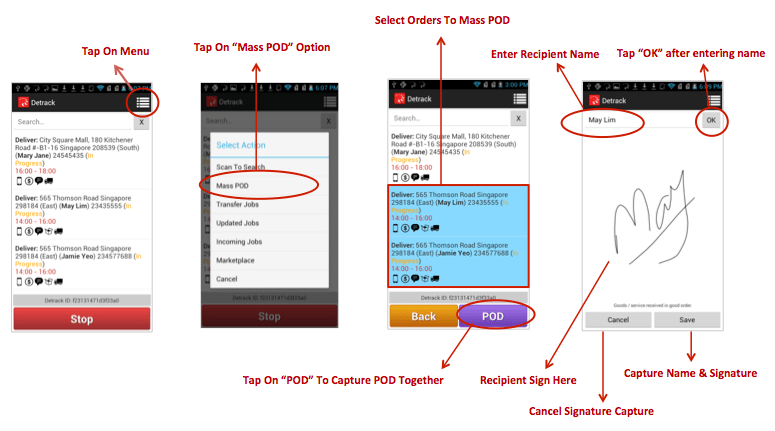 If your driver is delivering many orders to the same recipient at a single location, the good news now is that your driver can make use of the new Mass POD function to let the recipient sign once for all the jobs (as opposed to signing for every single job).
To use this feature, tap on the top right hand menu icon and select Mass POD. Your driver will be able to select the jobs for Mass POD and then tap on the POD button to capture name and signature. Once done, all selected jobs will be tagged with the same name and signature and submitted to your dashboard instantly.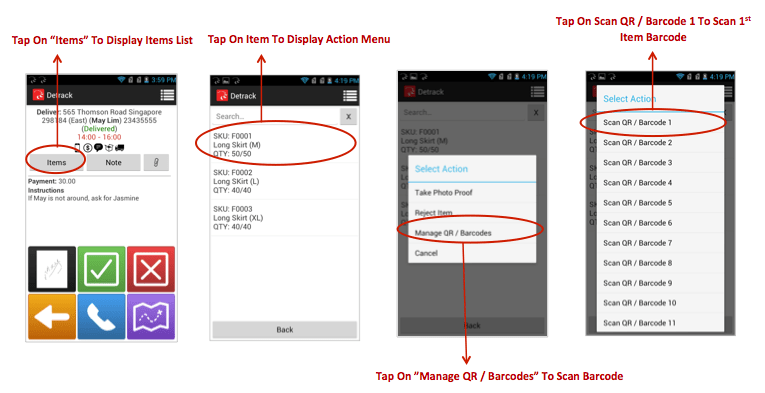 Detrack now supports the ability to scan multiple barcodes of the same item up to the number of item quantity. This allows the capturing for instance, serial numbers of electronic goods bought in multiple quantity to be sent back for warranty registration. This feature is automatically enabled for items with multiple quantity.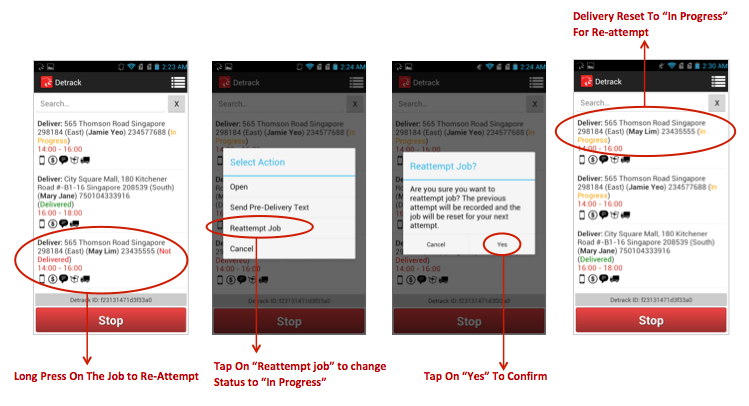 In Detrack v2.0, your drivers can now reattempt jobs – resetting the completed / partial job while saving a record of the original attempt on your dashboard for future reference and export.
To allow your drivers to reattempt jobs, enable the option via Settings > Job Settings > POD > Driver May Reattempt Failed Jobs. All jobs now have an attempt number tagged to it on the dashboard i.e. (#1), (#2), (#3)
Your drivers can either long press on the completed job on the main screen to select Reattempt Job option or do it via the job screen black POD button. If you do not need some of the POD options e.g. Enter Package Weight or Enter Temperature, you can now choose to hide them on your driver's app. You can do this via Settings > Delivery Settings > Export Fields > Disable the fields that you do not require and the options will automatically be hidden.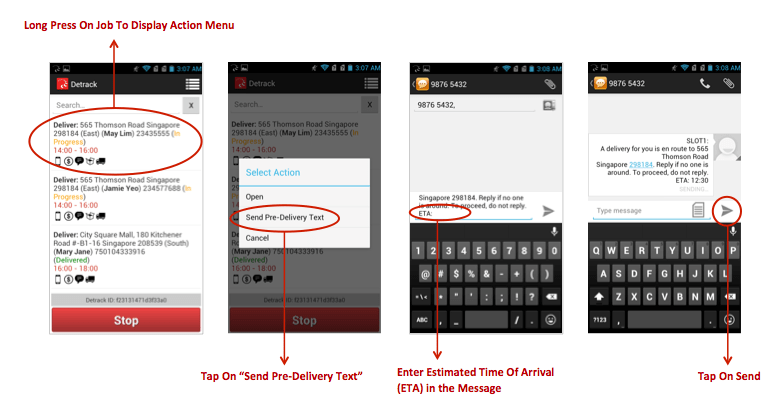 This is a new feature designed to reduce non-deliveries by enabling your driver to easily send a pre-delivery text to the recipients to inform them that a delivery is en route to the specified address. Detrack will attempt to auto calculate an ETA for the driver (if app is started and current location is available) to reach the delivery location and include it in the text template (else it will be left empty for the driver to enter).
You can enable this feature via Settings > Job Settings > POD > Driver can send pre job text. You can also make adjustments to the ETA via Settings > Job Settings > POD > Enter desired ETA adjustment (in factor) value.
Your driver can either long press on the job on the main screen or tap on the blue Call button on the job screen to select this option.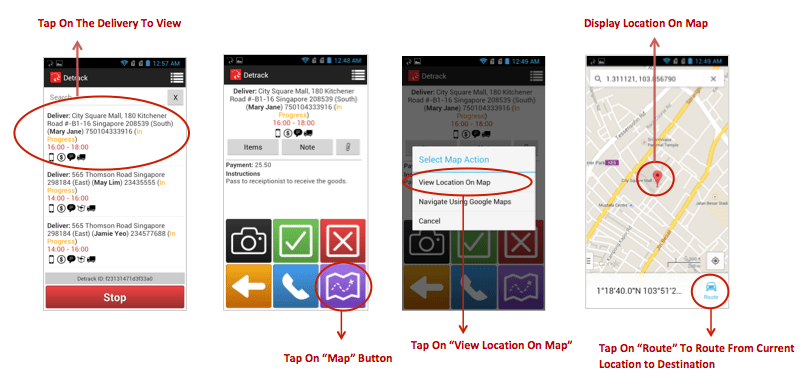 Your drivers can now choose to View Location on Map instead of navigating to location. Also, on top of Google Maps navigation, Detrack v2.0 now supports Waze and Sygic Trucks maps. This is automatically enabled if Detrack detects that you have Waze or Sygic Trucks installed. Finally, you can now display your company logo on your drivers app. If you have previously uploaded an organization logo, this will automatically work out of the box for you. Now your customers will be able to see your logo when they sign for their deliveries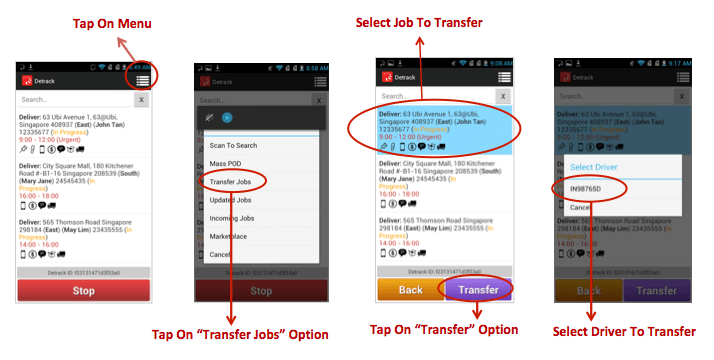 There are times when a job needs to be transferred from a driver to another driver for completion. In the past, the admin needs to reassign the job manually via the dashboard before the job can be "transferred". With this release, your drivers can now transfer jobs amongst themselves (receiving driver needs to accept the transfer request) without your intervention, thus easing workload on the backend.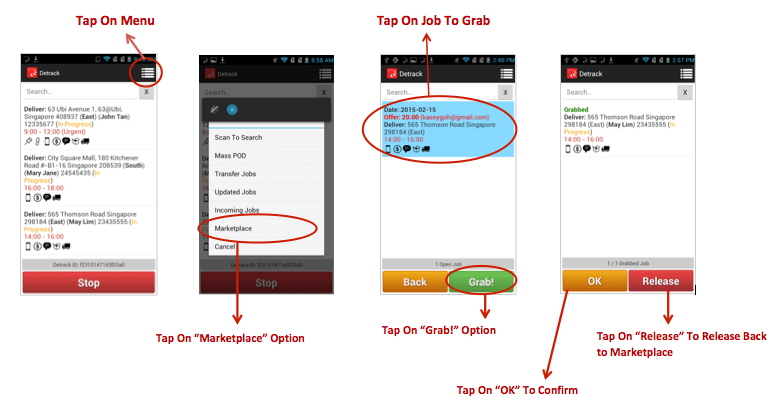 If you work with a group of outsourced / freelance drivers, you may want to open up jobs for them to select and take up on their own. Our latest Marketplace feature allows you to do just that. Once a job has been grabbed by a driver, it will automatically be assigned to the driver (and removed from Marketplace). You can optionally indicate your offer amount for your drivers to consider.
To use the Marketplace feature, first enable the fields via Settings > Delivery Settings > Fields > Open to marketplace and Offer. You will also need to enable each vehicle to be able to view and grab jobs from the Marketplace. You can do this via Vehicles > Edit Vehicle > Can grab open jobs. To import marketplace jobs, simply add the field " Open to Marketplace" to your CSV / Excel and put the value 1 for the open jobs you have. The Courier Mode in Detrack v2.0 marks the beginning of enhanced support for our courier users. When this option is enabled, deliveries and collections with the same D.O. # are "grouped" together (with arrow icons) on the main screen to indicate their relationship. Courier Mode is defined as your driver collecting goods from Point A and delivering the same goods to Point B i.e. 2 different milestones of the same job. Thus on the Detrack app, your driver cannot submit POD for a courier delivery before the courier collection is completed.
In Courier Mode, your driver must grab both collection and delivery of the same courier job (defined by the same D.O. #) in Marketplace. Also, when transferring job from one driver to the other, both collection and delivery of the same courier job have to be transferred together unless the collection has already been completed (and thus transferring only the delivery).
We have prepared a supplementary driver's guide with screenshots to walk your drivers through the new App based features for v2.0. You can download the guide here. You will also be able to find more detailed help on how to use the new features from Support > Solutions on your Detrack dashboard.