If your company is not already using dispatch software to manage your fleet, you are in danger of falling behind the curve and losing out to the competition in the future. 
The best dispatch software applications can produce major efficiency improvements for transport companies and manufacturers/wholesalers that run their own logistics operations. With it, route planning is a lot easier, and fleet management is way faster.
But what is dispatch software, and what does it do?
What is dispatch software and why should you use it?
Dispatch software is a type of field service management software that helps businesses manage and automate their dispatch operations. It can help businesses schedule and dispatch employees, track employee productivity, and manage customer information. Additionally, dispatch software can help businesses automate their billing and invoicing process. 
There are many benefits of using dispatch software for business. First, it can help businesses save time and money by automating many of their dispatch operations. 
Additionally, using dispatch software can help businesses improve their customer service by providing them with better information and tools to manage their dispatch operations. Finally, using dispatch software can help businesses improve their overall efficiency and productivity.

Types Of Service Dispatch Software
There are many different types of service dispatch software available on the market today. Some are designed for specific industries, while others are more general purpose. Here is a look at some of the more popular types of service dispatch software: 
Trucking
This type of fleet management software is designed specifically for the trucking industry. It helps dispatchers with route planning, tracking driver hours and locations, and dispatch loads. It includes features such as GPS tracking, route optimization, and dispatching to multiple locations.
Taxi
Another type of service that can benefit from dispatch software is the taxi industry. This type of freight dispatch software helps dispatchers keep track of their cabs, drivers, and fares. Such software usually comes with features like GPS tracking, fare estimation, and dispatch to multiple locations.
Emergency
Emergency service dispatch software is designed to help dispatchers manage their fleets of vehicles and personnel. This software is used by police, fire, and ambulance services. In addition, it is also used by tow truck services and other emergency service providers. 
Field Service
Field service dispatch software is designed to help businesses dispatch their field service technicians. This type of software helps dispatchers keep track of technician hours and locations and dispatch work orders. This is beneficial for businesses that have technicians working in multiple locations.
What is the best dispatching software and why?
When choosing scheduling and dispatch software, one of the first things you should consider is the features that are important to you and your business. For example, if you have a large fleet of vehicles, you will want to make sure that the software you choose can track all of your vehicles in real-time. 
Additionally, if you need to dispatch your vehicles to different locations, you will want to make sure that the software you choose can route your vehicles accordingly. Other important features to look for include GPS tracking, vehicle maintenance reminders, and driver logbooks.
Another factor to consider when choosing fleet dispatch software is the ease of use. You will want to make sure that the software you choose is user-friendly and easy to navigate.
Additionally, you will want to make sure that the field service management software you choose is compatible with your existing fleet management system. Otherwise, you may find yourself having to purchase a new fleet management system in order to use the dispatch software.
Ultimately, the best fleet dispatch software for your business is the one that meets your specific needs and requirements. By taking the time to consider the factors listed above, you can be sure to choose software that will help your business run smoothly and efficiently.
What to Consider When Choosing a Dispatching Software
Future-Proofing With Scalable Dispatch Software
One of the most important factors to consider is how well any solutions you are considering will scale as your business grows.
If you invest in dispatching software for small business users and experience rapid growth in the future, will you need to migrate to a new solution or will the system you chose be able to accommodate the increased volume of activity?
With a solution such as Detrack, business dispatch software, you can scale from dozens, hundreds, and even thousands of drivers, without having to make any changes to the system you first installed.
Contactless Delivery
With COVID-19 likely to remain an issue for the foreseeable future, a software solution that makes contactless delivery easy to achieve is the best option for all types of organizations.
The ability to store photographic PODs in the cloud, for easy retrieval when necessary, is vital when implementing this type of delivery system so you want to make sure the dispatch software you choose offers this functionality.
Even in a virus-free future, contactless delivery is almost certain to become a standard.
Cost Savings
If you share the same priorities as the majority of transport managers in Australia, one of the questions you will already be asking is "what is the best trucking dispatch software in terms of cost savings?"
The answer to this question is a software system that makes it easy to assign and reassign jobs, track the location of all drivers at all times, and produce a variety of activity reports based on specific date ranges or drivers.
A solution that stores route logs for all vehicles and other detailed information on your fleet activities will help you identify inefficiencies and remedy your operations.
7 reasons to deploy dispatch software in your organization
When asked why they deployed mobile dispatch solutions, transport managers gave the below seven reasons:


1. Ability to respond to urgent delivery requests promptly
With a map view showing the position of every driver throughout the day, assigning urgent deliveries to the nearest vehicle is a very simple task. This helps to ensure that your customers always receive their products on time, no matter how tight the deadline may be.


2. Ability to optimize schedules for individual drivers and across the fleet
With modern dispatch software, it's possible to view every driver's daily schedule and, crucially, alter the order of deliveries or reassign them to other drivers with a drag-and-drop feature. This allows you to easily reschedule deliveries around driver breaks or traffic conditions, ensuring that your fleet is always running as efficiently as possible.
3. Real-time information on the delivery status for all consignments
The status of all deliveries can be tracked online, making it easy to spot potential issues before they become major problems and allowing you to rectify them at the earliest opportunity. This also allows your customers to track the progress of their delivery, giving them peace of mind that their products are on their way.


4. Keeping customers aware of the status of their deliveries
Email templates for customer delivery notifications are available in dispatch software solutions such as Detrack. The system can be configured to send these automatically when each delivery is completed. In addition to providing an improved experience for your customers, this functionality reduces the number of calls you will receive each day.

5. Detailed reporting functionality
Transport managers in Australia and around the world appreciate the ability to produce detailed reports on fleet activity and individual drivers at the press of a button. Route logs and delivery information stored by mobile dispatch apps can be organized into different types of reports very easily.
6. Automatic rescheduling for uncompleted deliveries
If you are running a busy logistics operation, you'll be sure to appreciate the automatic rescheduling functionality of advanced dispatch software, which reschedules unsuccessful deliveries for the next business day. This ensures that your operation runs smoothly, with no missed deadlines or frustrated customers.
7. Clear overview of every day's scheduled deliveries
Every transport manager wants to be able to see the day's activities at a glance, and with the calendar view feature of apps like Detrack, this is readily available. This clear overview ensures that you always know what is happening and when allowing you to plan your day accordingly.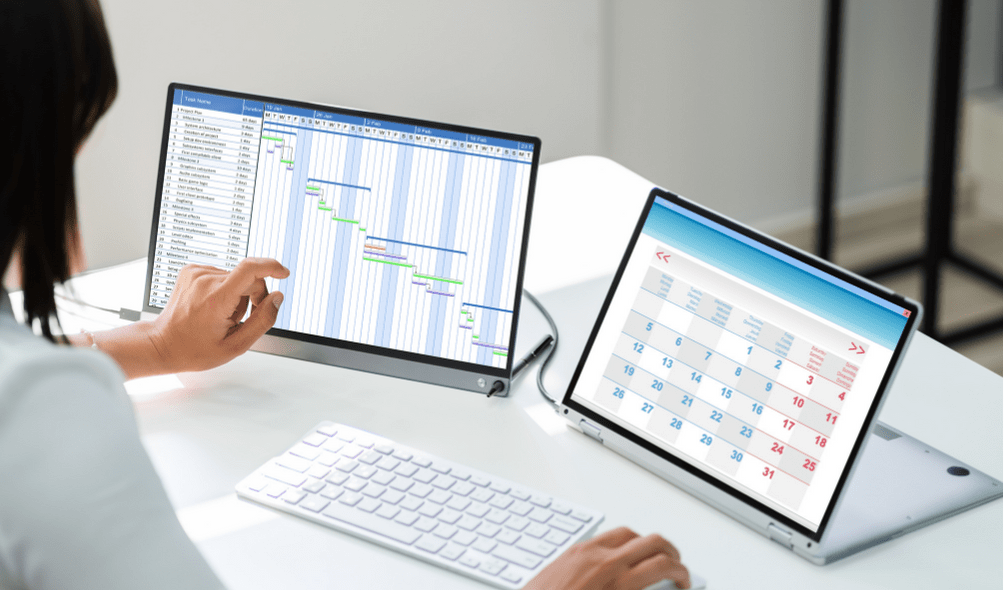 What To Look For In A Dispatch Management Software
When looking for dispatch management software, you should consider its features. The following are some of the things to look for in good dispatch management software:
Ease Of Implementation 
When seeking new dispatch scheduling software, it is important to find one that will be easy for your team to implement and use. You do not want to add another layer of complexity to your operations. The best software will have a user-friendly interface and require little to no training.
Automated Scheduling
Good dispatch software for small businesses will automate the process of scheduling and route optimization. This means that you can input your customer orders, and the software will automatically create the most efficient delivery route. This can save you a lot of time and money by ensuring that your deliveries are made in the most efficient manner possible.
Mobile Access
In today's world, it is important for all businesses to have mobile accessibility. This means that your team should be able to access the software from their smartphones or other mobile devices. This will allow them to stay up-to-date on deliveries and make changes on the go.
Customer Notifications
Your customers should always be kept in the loop when it comes to their orders. A good dispatch board will have a way to send automated text or email notifications to your customers. This way, they will always know the status of their order and when to expect their delivery.
Integration Capabilities
It is important to find dispatch systems that can integrate with your existing systems. This way, you will not have to start from scratch in terms of data entry. The best dispatch software will be able to integrate with your accounting, CRM, and ERP systems.
Route Optimisation
As mentioned before, good dispatch software will optimize delivery routes. This means that your team will be able to make the most efficient use of their time. The software will take into account traffic patterns, customer location, and delivery times.
Real-Time GPS Tracking
Another important feature to look for in dispatch software is real-time GPS tracking. This way, you will always know where your drivers are and how long it will take for them to make their deliveries. This information can be used to provide accurate ETAs to your customers.
Investing in dispatch software for the future
When it comes to running a successful logistics operation, dispatch management is key. Good dispatch software can save you time and money by automating the process of scheduling and route optimization. It is important to find software that is easy to use and implement, as well as one that integrates with your existing systems. 
Additionally, the dispatch board software should have real-time GPS tracking and the ability to send automated customer notifications. By taking the time to find the right dispatch software for your business, you can streamline your operations and improve your bottom line.
If you would like to find out how Detrack can benefit your delivery business, contact us to schedule a call or sign up now to try Detrack today, and start enjoying features like live delivery tracking and our award-winning electronic proof of deliveries (E-PODs).