Some of the most important aspects of every business include improving its efficiency, income generated, and working environment for workers — delivery businesses are no exception. As a delivery business owner or courier driver, there are several ways to maximize your efficiency and save time. For instance, finding the fastest fuel-saving route or effectively communicating with customers to speed up delivery time.
One way to achieve all these is by using delivery driver apps — unique and convenient mobile applications that have become increasingly popular due to their reliability, cost-effectiveness, and time-saving in delivery operations. With the help of delivery applications, you can handle more orders with less time and resources, allowing you to earn more as a delivery driver with flexible working hours.
Suppose you're finding it hard to streamline your delivery operations as a courier business owner or driver. In that case, this article has all you need to know about a delivery driver app, the types, features, and benefits of using one, and how to choose the best app for your business.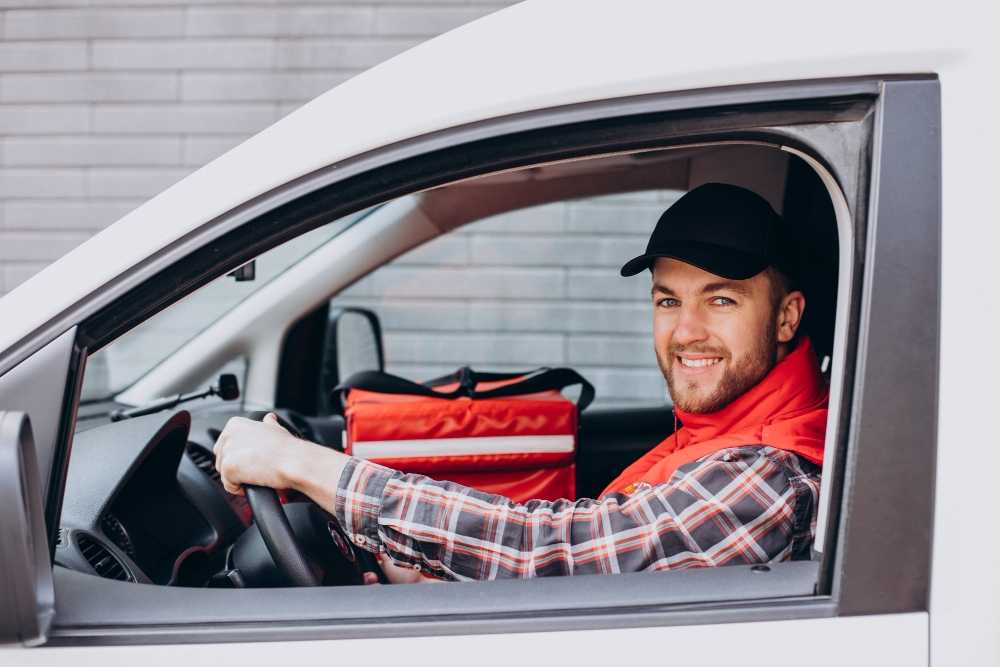 Types of Delivery Driver Apps
There are several delivery apps for drivers, depending on the services you're offering. Each application type has unique features and benefits that make it suitable for that particular niche. Explained below are the types of delivery apps.
Package delivery apps
These are applications that can help streamline deliveries for businesses. Package delivery applications can be used in tracking packages, route optimization, checking driver ratings, and booking management. The ability to plan routes faster than manual processes and offer contact between management, drivers, and customers is what makes a package delivery app reliable.
A package delivery app can also be referred to as an app to track deliveries because they offer real-time tracking features for drivers, ensuring customers and management knows the driver's location and ETA. The feature also ensures security for the vehicle and the transported package.
Subscription-based delivery apps
When it comes to providing grocery delivery solutions for customers, subscription-based delivery applications are the most common paid model used. The subscription-based delivery apps work by simply asking customers to subscribe to the application. When they do, they're required to pay an annual or monthly fee based on your requirement to gain access to the important features that regular users cannot access.
Once payment is made, users who want a food, package, or medicine delivery service can access the salient and internal features they want. The clients, in turn, get an admin dashboard with white-label solutions to use. The cost of one-time development might be too expensive, so monthly rental app solutions are cost-effective and manageable for SMEs and startups.
White-label delivery apps
White-label delivery applications are used majorly by restaurants as a cost-effective, branded, and valuable way to deal with competition from other restaurants. They're a popular innovation that allows restaurants to set up and run their food delivery services without the confine of third-party companies like UberEats, DoorDash, GrubHub, and Sociavore.
Another beneficial area of white-label delivery apps is allowing restaurant owners to create a service with very little or no tech knowledge. Also, since customers will be ordering directly from your app, they won't see other restaurants in your area competing with your business.
Restaurant delivery apps
According to GloriaFood, about 86% of people in the United States make use of food delivery services once a month at least. This is one of the major reasons restaurants make use of a delivery application and set up their delivery service with hired drivers rather than an independent courier.
A restaurant delivery app is a software application created and used by restaurants to enhance their delivery operations. These applications often include a display menu of the available foods and sections for customers to place an order, select pickup, or delivery.
Since statistics have shown that orders placed through restaurant delivery apps are, on average, $4 higher than orders placed at the restaurant, it's a great way to generate more revenue.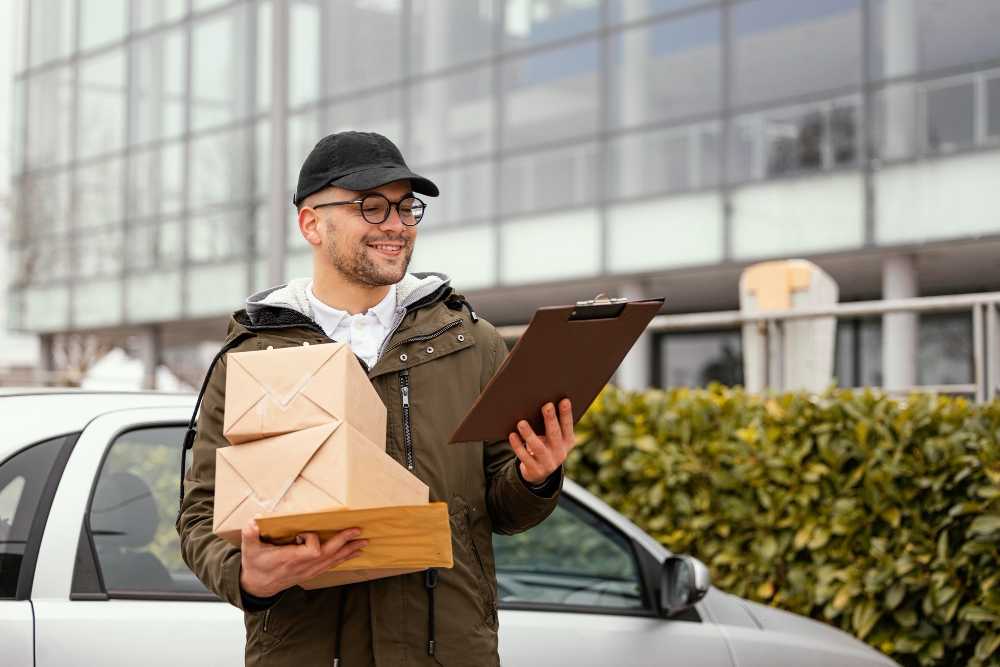 Features of Delivery Driver Apps
When choosing a driver delivery app, you need to consider several features based on your needs and goals for your customers and business. Below are some of the most important features of a delivery driver app.
Real-Time Tracking and Monitoring
It is vital to keep track of your driver's exact location during the delivery process. As such, a good delivery application must be able to offer real-time visibility and monitoring, allowing you to regularly update your customers on their package's status without interrupting the driver as they deliver the packages.
Real-time tracking can be used for fleet management methods, route optimization, and in the worst-case scenario, tracking of stolen vehicles. The real-time tracking feature also provides valuable information to monitor drivers' behavior and delivery performance and ensure that you have the best team for your business.
Automated Dispatch and Routing
As a driver, calculating the most efficient and fastest route can be challenging without using a routing service or route planner. It's even more challenging when you factor in your entire delivery schedule. How do you decide which route to take? And make your delivery more efficient?
A good delivery driver app must have a routing feature that can streamline the route planning processing by utilizing algorithms and data to ascertain the best possible routes. In turn, it prevents any mental stress needed to figure it out manually.
Electronic Proof of Delivery
During the delivery process, the final step is collecting a signature from the customer as proof of delivery. Most times, this step is done manually and involves a lot of paperwork, resulting in clumsiness and, sometimes, loss of data.
A delivery driver app with ePOD (electronic proof of delivery) can make the process of capturing and storing a customer's signature easy. ePOD allows the driver to register when the delivery was picked up, where it was delivered, and to whom it was delivered. It includes taking a signature, a photo of the package, and sometimes, payment (cash on delivery, card payment, or online payment). All these details reduce any possible customer complaints and miss-delivery claims.
In-App Notification and Communication
It's necessary for a delivery driver app to support communication between drivers and customers for regular information about their whereabouts and the estimated time of arrival. In-app communication comes in the form of a chat screen, allowing two-way communication between the driver and the customer. It also allows the fleet manager to communicate with the driver.
On the other hand, in-app notifications are pop-up alerts that appear on the user's screen. They're usually colorful and provide major updates and information about the customer's delivery..
Data Analytics and Reporting
A delivery driver app needs analytics and a reporting feature in order to provide a well-detailed review of your delivery operation. The detailed analysis should comprise reports of expected fuel consumption vs. actual fuel consumption, planned routes vs. routes taken, drivers' performance per week/month, daily stops made, successful deliveries, and delivery cost. The information obtained from the report will help to make it easier for the driver and improve overall efficiency.
Payment and Invoicing
Customers prefer to use several payment options, such as cash on delivery, debit or credit card payment, or online payment. As such, delivery driver apps need to have a payment option that allows customers to make payments when they receive their packages. That way, drivers won't have to deal with the risk of transporting cash. Also, the feature enables drivers to quickly generate invoices for customers to make payments for their packages.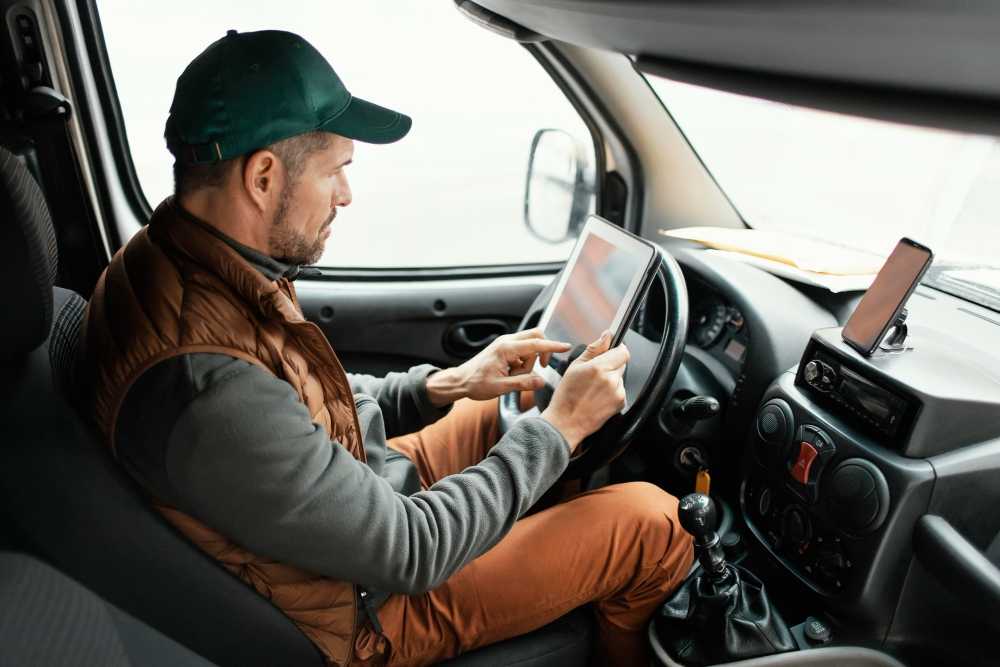 Benefits of Using Delivery Driver Apps
Utilizing a delivery driver application offers several benefits for a delivery business owner. From a more enhanced customer experience and service to an improved delivery process and better communication, the benefits are too essential to overlook. Explained below are some of the benefits.
Improved Delivery Efficiency and Speed
Using the right delivery app for drivers helps to increase your business efficiency. With a single application, drivers will be able to access several orders, allowing them to plan routes, save time, and reduce fuel consumption. It also helps to speed up the time taken to deliver packages, improve the accuracy of orders, eliminate manual paper trails, and reduce the cost of administrative operations.
The app also allows businesses and customers to track orders in real-time, giving both parties peace of mind about their package's location. Using a delivery app for drivers helps save money and time and ensures packages arrive swiftly.
Enhanced Customer Experience
Customer service and experience are essential aspects of every business. For delivery businesses, using a delivery driver application gives customers a convenient, reliable, and efficient service. It streamlines the entire process, making it easier for all parties involved.
Customers can also enjoy access to notifications on their order status and can track deliveries, giving them a sense of control and improving their overall experience. Additionally, it enables faster resolution of issues and reduced response time from customer service representatives through its two-way communication channel, giving a streamlined experience.
Increased Driver Safety and Security
Businesses now have the luxury of enhanced security by using a delivery driver app. Features like background checks and real-time tracking ensure that customers' orders and packages are safely delivered without damage. For instance, customers can track the driver during delivery, ensuring that their order is not delayed or misdirected.
Additionally, drivers will be able to plan the best routes, eliminating any possible damage to them or the vehicle. Since the application allows drivers to save time and energy, it reduces their rate of fatigue and ensures their jobs are more efficient.
Better Communication and Collaboration
A delivery driver app allows two-way communication between the drivers and the fleet manager for regular delivery updates or to pass across any vital information during delivery. This improves the collaboration level and ensures the entire process is efficient. Delivery apps for drivers also support communication between the customer and the driver. That way, customers can easily communicate with the driver if they can't pick up their packages at the stipulated time.
Reduced Operational Costs
Since delivery driver apps allow for effective route planning, drivers can easily take the shortest and fastest route possible when delivering items. That way, they can minimize the cost of fuel and money for vehicle maintenance since it won't operate as much as it would have if they took a longer distance. The cost of acquiring and running manual and messy paperwork can also be reduced with the use of automated features like ePod. additionally
Better Insights
Delivery businesses can say goodbye to potentially old systems used in collecting data and insight into their operations. With a delivery app for drivers, delivery businesses can effortlessly track several insights, including the number of deliveries made each hour and the time spent dropping off each package. The data obtained can be used to make effective decisions on staff routines, routes, and necessary equipment.
Customer interaction is also easy with a delivery driver application. It allows businesses to implement real-time and effective feedback that understands their customers' needs and how to deliver on those expectations.
Choosing the Right Delivery Driver App for Your Business
Now you know the benefits a delivery driver application offers, it is essential to know how to choose the right one for your business. When choosing the right delivery driver app for your business, you need to consider several factors aside from your preference.
For starters, when choosing the app, you need to consider one with a simple and user-friendly dashboard. The dashboard is where you'll spend most of your time. So, the application should have a simple, easy-to-use interface. It should be designed so that all delivery activities can be completed in one location to avoid wasting time by switching between pages. It should also be mobile-friendly so that you can access the necessary information you need from your phone.
It must have a route planning and real-time planning feature. These two features are the most vital features needed in a delivery app. So, when choosing one, ensure it's able to plan multiple routes in seconds accurately and can track the driver's location via GPS.
Other aspects you need to consider are the electronic proof of delivery, integration, delivery scheduling, and real-time notification features. These features make it easier to run the delivery business with good customer feedback effectively.
H2 Frequently Asked Questions about Delivery Driver Apps
How much do delivery driver apps cost?
The price of delivery apps varies based on the provider but usually starts from $25/month in most cases. However, Detrack offers a free plan with limited features.
How do delivery driver apps work?
They provide the drivers and delivery business owners/fleet managers with features like route planning and ePOD to streamline the delivery process.
What are the benefits of using delivery driver apps for small businesses?
There are several benefits, like improved delivery efficiency and speed, better customer experience and feedback, increased driver safety and security, better insights, reduced cost of operations, and better collaboration and communication.
Are delivery driver apps secure?
Yes, they're secured. They use the latest technologies and online security features to keep customers' data safe.
Can delivery driver apps integrate with my existing systems?
Yes. Some delivery driver applications support integration with your existing systems.
Delivery Driver Apps: The Ultimate Solution to Streamlining Delivery Processes
You need an effective delivery driver app with cutting-edge features to streamline your delivery process. Detrack offers its users several features that make the delivery process easier. Our integration features make it easy to connect your favorite work tools. We work with your existing workflow process and easily integrate with it to save time and inconvenience.
Try Detrack Today and experience our real-time delivery notifications feature, reduce your customer's delivery uncertainty, build brand confidence from day one, and improve customer experience. We also support you with high-speed route optimization so you can plan several possible routes in the blink of an eye!