In recent years, the food ordering industry in the U.S. has seen tremendous growth with almost everyone ordering food at least once a month according to a study by Gloria Food. As such, it is essential to provide a stress-free delivery process to make customers happy and satisfied. 
When customers experience a poor delivery process, it leads to re-delivery, complaints, and a drop in revenue. To keep your customers happy, retain their patronage, and increase your revenue, your delivery process must be fast and professional.
Whether you've been delivering packages for years or are new to the industry, here are some tips for delivery drivers to optimize your delivery process and earn more.
Tips for Delivery Drivers 
Explained below are tips on delivery that can ensure a smooth and stress-free process for both customers and delivery drivers.
Stay on top of vehicle maintenance 
As a delivery driver, it is necessary to know how to drive properly. However, it is also important that you know how to deal with your vehicle in case anything goes wrong. As such, you need to keep your truck or vehicle in good shape. 
Ensure you regularly carry out maintenance checks like tire rotation, oil changes, brake pads, and shock absorbers inspection. You can schedule a monthly or weekly visit with your mechanic to carry out more thorough checks on your steering, gasket, axle, and other parts to make certain that they're working well.  
Also, make sure to clean your vehicle daily by removing any paper, gum, tape, or leftovers from the previous day's delivery. When your vehicle is clean and arranged, it'll make your work easy when delivering items so you don't mix up old and new packages. Keeping your vehicle clean also showcases a professional appearance which can be helpful in establishing relationships with vendors and merchants. 
As a delivery driver, it is essential to know how to operate your vehicle and react when faced with emergency situations. So, ensure you know all details of your vehicle like its top speed, how hard you need to apply brakes to halt the vehicle, and if it's fitted with ABS (anti-lock brakes system). Understanding these details will help save time and effort when delivering packages and can also keep your vehicle in good condition. 
Create a delivery kit
A delivery kit is an essential gear for delivery drivers. These is one of the most important tips for delivery drivers that can help keep you organized and allow you to provide quality service. Ultimately, it saves you from customer complaints. Whether you are transporting temperature-sensitive items or large quantities of food or you just want to be prepared for all orders, then consider having the following gear with you to make your delivery process top-notch.
Insulated bag:

An insulated delivery bag will help maintain the temperature of hot foods and prevent any form of spillage. 

Locked cash box:

Sometimes, customers often order items with the pay-on-delivery option. As such, you need a locked cash box to keep their money or if you need to give them change.
Clipboard:

You need a clipboard to hold onto essential documents like receipts so they don't scatter inside your vehicle.
Divider:

You need a divider with an inbuilt compartment to keep items and packages straight.
Pen:

Carrying an extra pen with you stops customers from going through the hassle of searching for theirs. 

Sticky notes:

Part of your job as a delivery driver is ensuring that each order gets to the right customer. As such, you need sticky notes to make labels so you don't mix up anything.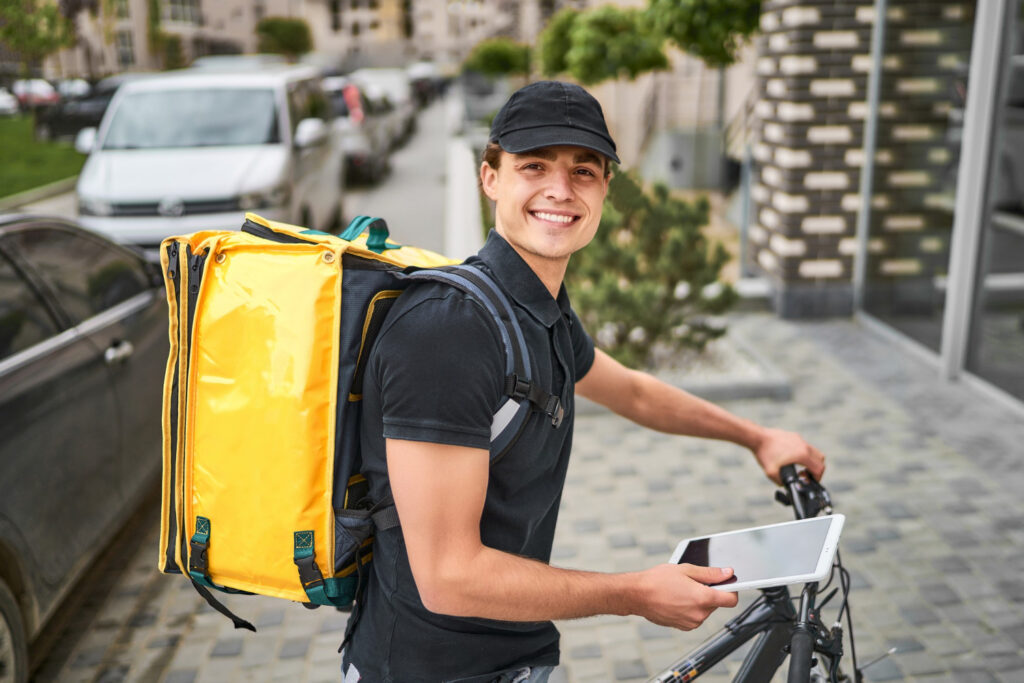 Optimize navigation with a routing app
Planning your route effectively can help remove any delay to your delivery time as a result of traffic. Likewise, planning your route ahead can help in increasing your efficiency. Most drivers rely on manual route planning which often results in delays and failure to deliver good results when delivering packages. 
As such, it is essential to optimize your navigation process with delivery optimization software like Detrack. Our ElasticRoute feature saves you time and potential traffic delay by allowing you to plan hundreds of routes within seconds and then easily transfer them to your existing workflow for last-mile tracking. 
Drive safely
One of the most important tips for delivery drivers is to ensure they prevent harm or accidents to every other road user. As a delivery driver, it is understandable that there are times when you'd be in a race against time to either deliver an item or pick up orders. However, regardless of the pressure to deliver packages on time, don't compromise your safety for speed.
Ensure you adhere to the following safe driving tips. 
Don't drive while you are tired, rather pull over and take a quick break 

Don't drive above the speed limit even if it means you deliver an item late. 

Ensure to pack in an appropriate area so you don't block the road and no one hits your vehicle. 

Prepare for unfriendly weather conditions that can put the road in a dangerous state. If caught unaware, ensure you leave a considerable distance between you and the cars around you and drive as slowly as possible. 
Offer contactless delivery
Although contactless delivery was used by several businesses prior to COVID-19, it has increased drastically after the pandemic. Contactless delivery involves dropping off a package at the customer's door or a location specified by them. The aim is to avoid any form of contact and practice social distancing.
When making several deliveries in a day, the contactless option allows you to reduce contact with people. Ensure you wear disposable gloves while handling customers' items like food. Also, take a picture of the package and notify the customer once you've dropped it off. 
Be Kind and offer top-notch customer service
A vital aspect of your delivery is ensuring you effectively deliver the package. Make sure you deliver a 5-star experience to the customer as it'll he'll the business grow since you're a representative of the delivery company. 
Be kind, and friendly, and pay proper attention to restaurant workers, front staff and customers' requests in order to improve your people skills and deliver top-notch customer service. Say hello and introduce yourself if that's your first time there. The aim is to build quality relationships and ensure everyone is happy with your service.
Also, due to the competitive nature of the delivery industry, customers won't think twice about switching to a different brand if you offer poor service, are unreliable, don't get the orders right, or have bad communication skills. So, make sure you remain calm and patient even when dealing with a difficult customer.
If you're behind on your delivery schedule, update the customers and provide them with your real-time location. The goal is to make them happy with your service.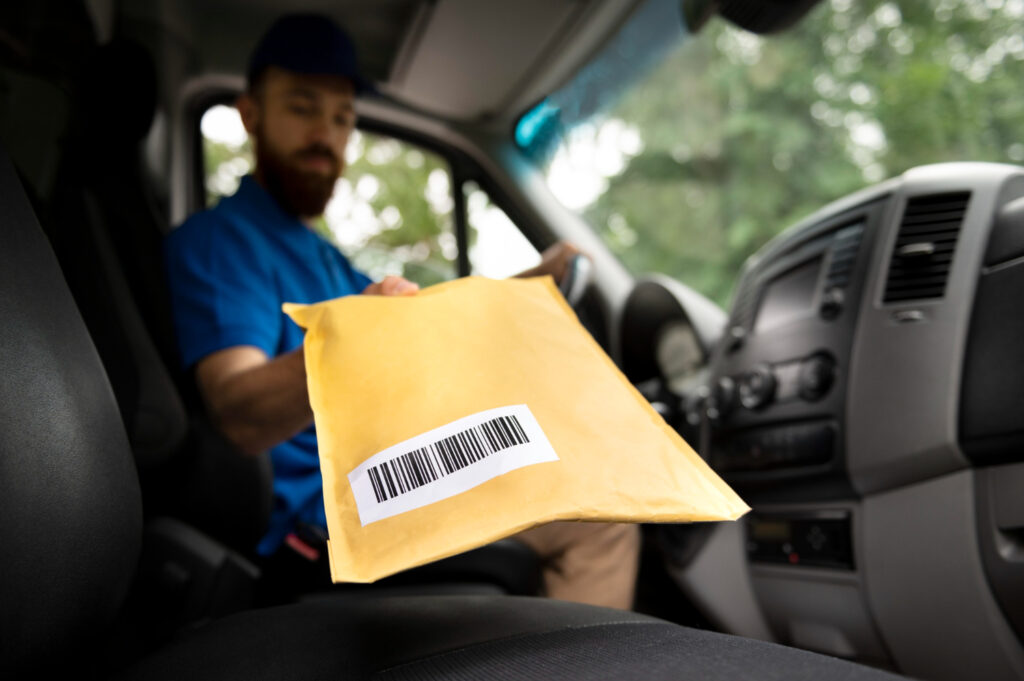 Keep all orders safe
While there are several tips for delivery drivers, this is perhaps the most vital one. No customer will be happy with the delivery company if their items are manhandled or damaged while in transit. As such, you should prioritize the safety of all orders in your care so your employers can retain their customers and continue to build a healthy business relationship. 
When transporting packages, ensure you take proper care of the items and effectively store fragile orders. Do not damage or break a customer's order so as not to risk their displeasure or lose their trust. 
When a customer's order gets damaged, they will file for a return which results in loss and increased pressure on the company. As such, there's a chance that you might not get a good payout or incentive after concluding your delivery. 
Do a performance review 
In business, knowing what area works well and what doesn't allows you to plan properly and shift focus to what works well. Similarly, in delivery service, it's essential to carry out a performance review on your delivery operations — existing results — to find out the exact deliveries that generate the most profit so you can focus more on them. 
You can use a professional software that optimizes delivery to analyze your delivery history for the past 6 months or 1 year. Study the metrics and data so you can better understand your delivery results and know which customer's delivery to prioritize. 
Also, carrying out a performance review will help you use your delivery time more effectively and efficiently so you can unlock your full potential and become a standout delivery driver.
Increase delivery earnings with Detrack
Detrack is a powerful and easy-to-use delivery management software that can help you increase your earnings. 
Our proof of delivery app, otherwise known as the driver mobile app, can help improve your logistics workflow, maximize your profits, and also reduce your operational expenses by a whopping 60%. Also, you'll be able to build a trustworthy brand that your customers will love by delivering top-notch customer service. 
For instance, you can Try Detrack Today if you're running late on a delivery. You can reduce the level of uncertainty using our real-time notification feature. It allows you to send automated messages to your customers via email or sms. As such, they'll always know the exact location of their package and the ETA. 
In doing so, you'll be able to build trustworthy relationships with your customers and increase the quality of your service which can lead to referrals and increased earnings on your deliveries.