Since 2020, the number of mobile shoppers on eCommerce platforms have skyrocketed. In 2021, mobile commerce shoppers generated over $360 billion in sales, with the figure rising to $431.4 billion in 2022. It's further expected to reach $511.8 billion in 2023. As these figures grow, so does the demand for last mile delivery companies because customers expect their items to be delivered to their doorstep. To cushion the effect of this demand, companies have sprung up offering last mile delivery service to several eCommerce businesses and local stores and businesses also looking to deliver their customers' packages.
However, the issue is, finding the right delivery company for businesses' last mile delivery process, can be challenging. While it's essential to choose a last mile delivery service that meets your needs and requirements, it's also vital to consider one with a proven record of good customer experience. With that in mind, there are several considerations and features that you need to look out for when choosing which company to hire for your needs.
One way to make the right choice is to keep your customer's satisfaction in mind. It can help you make an easy choice of which delivery company to use for your last mile deliveries. However, if you're finding the decision a challenging one to make, keep reading! This article contains all you need to know about a last mile delivery company and some of the features to look out for, and essential tips for choosing one.
What is a Last Mile Delivery Company?
Companies who run last mile delivery services are essentially the bridge between sellers and buyers in the eCommerce industry. Their focus is on ensuring the completion of the final lap of the order fulfillment process by transporting the packages from the company's warehouse, distribution center, or store to the customer's location.
They tackle all challenges to last mile delivery and ensure packages are delivered in a timely manner without any mix-up or damages. As a small or large Commerce business owner, it's crucial to understand the need for your customers to get their packages in perfect condition and without delay.
As such, last mile delivery services utilize several advanced solutions like route optimization, automation, and real-time delivery tracking to complete the process.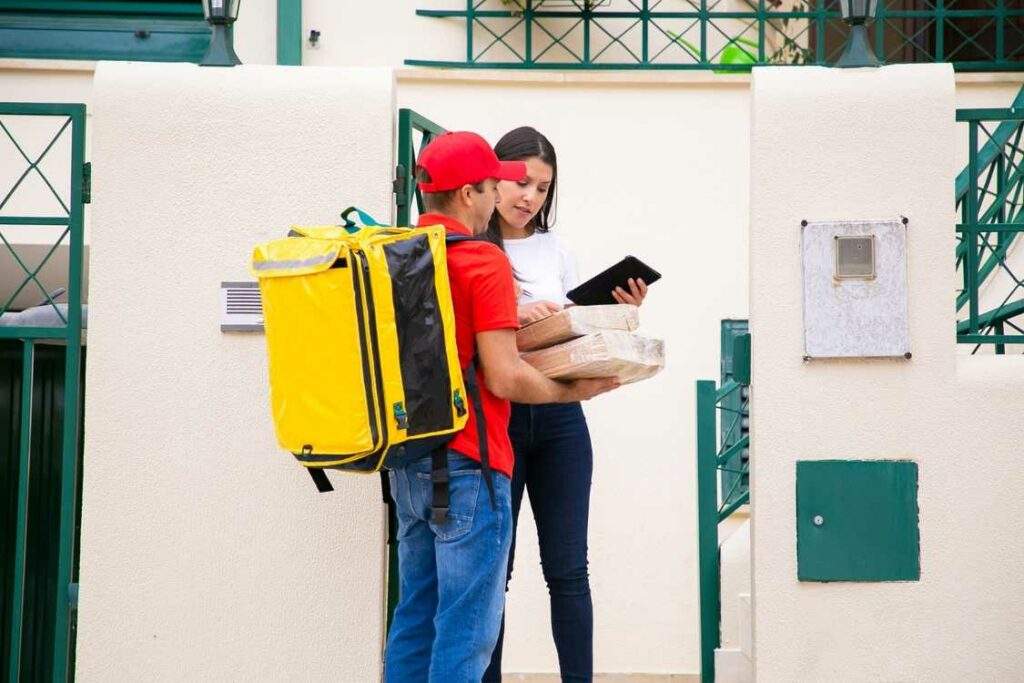 Types of Last Mile Delivery Companies
Before utilizing the services of a last mile delivery business or company, it's vital to understand the types and how they best suit your business or specific needs. For instance, if you're into the sales of time-sensitive products like foods or drugs, you need to utilize a company offering same-day delivery.
Traditional Couriers and Logistics Providers
Most companies make use of the services of traditional couriers and logistics providers. Essentially, they provide business delivery services, ranging from cross-country shipping to local deliveries. One of the advantages they have is that they provide door-to-door delivery service.
That means businesses can send items through them and expect them to be delivered to their customer's destinations without time wastage or any hassle. This type of delivery company is particularly preferred when shipping fragile or large packages. Some examples include DHL, FedEx, TNT Express, and United Parcel Service (UPS).
E-commerce Giants and Retailers
As the name implies, this type of delivery company is run by large eCommerce businesses and retailers alike to fulfill customer orders. The delivery company type usually starts with customers ordering an item online and getting it delivered to their preferred location.
As most direct-to-customer businesses or brands now depend on online channels for sales, they can easily partner with eCommerce giants like Amazon and eBay to complete their last-mile delivery by safely and timely delivery of packages to the customers.
Crowdsourced and On-Demand Delivery Platforms
Crowdsourced delivery is a fairly new and emerging way of fulfilling last mile delivery. This type of delivery leverages the network of non-professional and local couriers to deliver a customer's package to their doorstep. It's mostly common in the grocery and meal delivery industry.
One of the reasons why this method of delivery is springing up is it's a way for retailers and business owners to cut costs, maximize supply chain efficiency, and keep up the competition with traditional delivery powerhouses.
On the other hand, on-demand delivery platforms are delivery companies that help retailers fulfill orders that must be delivered on the same day or even in a shorter window (like a few hours). This delivery type is mostly used in industries offering time-sensitive products like food, restaurants, or drugs.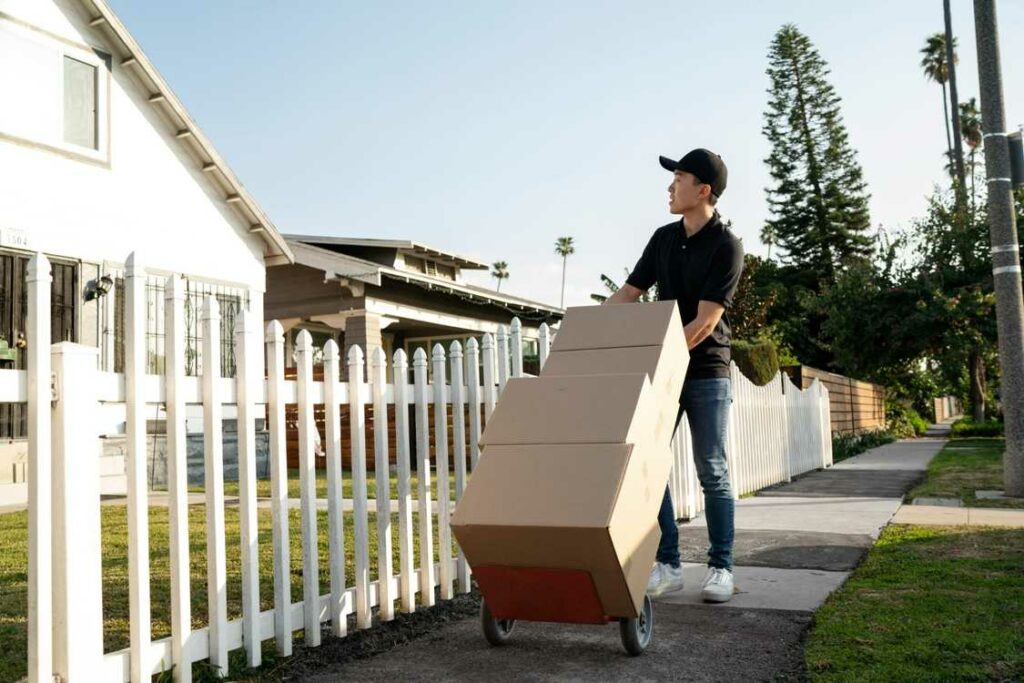 Features to Look for in a Last Mile Delivery Company
Before choosing a specific delivery company for your last mile delivery needs, there are certain features you need to consider and look out for in order to ensure that the process is smooth and hassle-free for your customers. For starters, the delivery company needs to have an effective route optimization in place to ensure timely delivery of packages.
They also need to have other features like real-time tracking so customers can always know their packages' exact location and proper integration so you can easily integrate the functions into your workflow management. Explained below are some of the features to look out for.
Efficient route optimization
Apart from cutting down costs, one of the major reasons businesses utilize a delivery company's services for their last mile delivery needs is to ensure the package is delivered in a timely manner. Most companies offering last mile delivery services face a major challenge of on-time delivery. Factors like traffic, bad roads, and location can result in delayed deliveries.
As such, looking for a delivery company with a route optimization feature is essential. Route optimization is a vital feature in the logistics industry. It plays a vital role in reducing the total time spent delivering a package by finding the fastest, shortest, and most efficient route available. That way, drivers can easily be assigned delivery tasks that are on the same route rather than driving long distances in opposite directions, resulting in delays.
When choosing the best route, aside from considering several factors like time, location, and capacity, the route optimization feature also allows the company to make any necessary last-minute change to the delivery schedule by sending live updates to the driver.
Read more on how Detracks add-on tool, ElasticRoute can plan your routes in seconds: https://www.detrack.com/elasticroute/
Real-time tracking
In a study conducted by digitalCommerce, about 93% of customers want to stay informed throughout the delivery process—from in-transit status to final arrival date. The study also showed that businesses are more likely to lose 47% of their customers if they don't offer real-time tracking of orders.
So, one of the ways you can improve your customer experience is by using a delivery company with a real-time last mile tracking feature. That way, your customers can track their packages from when they leave the warehouse, ensuring transparency. Real-time tracking allows your customer to know when to expect their packages, their current location at all times, and any changes on the delivery schedule.
The feature also allows you to track the package and driver throughout the last-mile process, ensuring that the company can meet the set delivery target. It is also essential to check how easy the tracking option is and the accuracy of the feature. Due to the importance it gives your business, it is of utmost significance that you consider a company with real-time tracking features.
Add real time tracking into your delivery workflow to increase client satisfaction: https://www.detrack.com/delivery-notification/
Transparent pricing
Another feature to consider is the pricing. The cost of hiring a delivery company can take a large portion of your total operational cost. Selecting a company with transparent pricing makes it easier to keep up with eCommerce giants offering delivery services. While pricing is an essential feature to consider, it's not a great idea to go for a last mile company with the least price. Rather, you should choose the one that offers a mix of transparent pricing, efficiency, and quality services.
When discussing the pricing with the delivery company, it's essential to compare the prices they offer for the delivery services you want. Standard delivery is often more affordable when using one provider. You also need to consider how you will be charged. Some companies charge a fixed monthly fee with limited deliveries and others per delivery.
Detrack offers the best value for money, check out the pricing options here: https://www.detrack.com/pricing/
Integration capabilities
As more and more businesses continue to rely on technology to streamline their operations, it is essential that when choosing a final mile delivery company, you choose one with integration capabilities. That means they have to use technologies that can easily integrate with your systems and tech stacks. They should be able to allow on-site integration or use a strong API that allows remote integration with any system.
You need to ensure their technology can integrate with your order management system, communication apps, customer service software, and warehouse management solution. Integrating your order management system with your last mile delivery partner warehouse management system helps to save cost and time through automation. It also gives you immediate access to see delivery schedules and inventory levels.
Understanding integrations options is vital to scale your business. Find out more: https://www.detrack.com/integrations/
Reverse logistics
While last mile delivery focuses on transporting the product to the customer's doorstep, reverse logistics is the opposite. It entails the movement of packages or products from the customer back to the seller. There are several reasons why customers may request a return of their package, using a company that offers efficient reverse logistics helps to increase your business value, decrease costs, plan better and build trust in your brand.
Since returns are mostly unpredictable, hiring a last mile delivery company offering this service, ensures your customer can complete the process without any hassle which in turn improves their experience, increase their loyalty, and retain their patronage.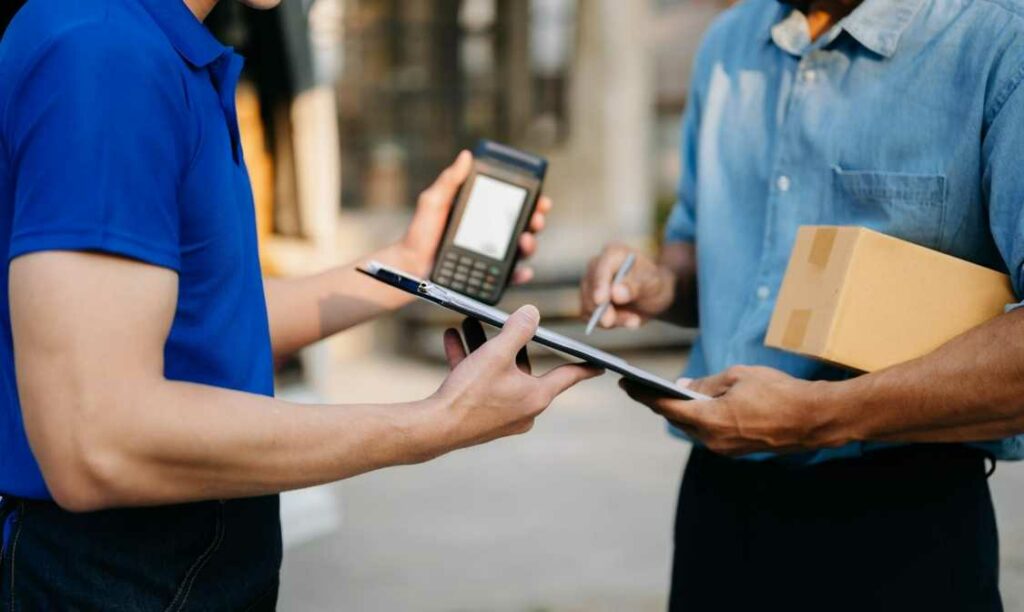 6 Tips for Choosing Between Last Mile Delivery Companies
Looking to choose a company for your last mile delivery needs? Below are some tips to keep in mind. Research and compare
Check customer reviews
Before going ahead to make a choice, it's vital that you check the company's previous customer reviews. If they are credible in their services and what they do, the reviews will mostly be positive. Customer reviews help you understand how they deal with their past customers. However, it's also essential to read the reviews from various platforms before making a conclusion.
When making a choice, favor companies with multiple reviews rather than relying on a single, or fewer ratings.
Assess tech capabilities
Several delivery companies have varying levels of technological features that help streamline their last mile delivery process. As such, carrying out a thorough assessment of their tech capabilities will help you understand whether or not they fit your needs. For instance, some may have the live tracking and notification feature, while others may have the same features with added others like ePOD, route optimization, and integration.
Check for delivery options
Several businesses require specific delivery options depending on their products. Some delivery businesses offer same-day delivery while others don't. In the same way, others offer 2-day delivery, and others offer overnight delivery. So, it is essential that you know the delivery options available before making a choice.
For instance, if you run a time-sensitive business like a restaurant or medicine store, you may want to go with a company offering the on-demand delivery option. For grocery stores, options like same-day delivery might be more suitable.
Verify compliance
Some final mile delivery companies do not comply with the industry regulations and standards, whilst others look unprofessional in their services. You need to check if they comply with OSHA (Occupational Safety and Health Administration). If they focus on medical deliveries, do they comply with The Health Insurance Portability and Accountability Act (HIPAA)? Do they prioritize taking responsibility for protecting your business?
These are questions you need to ask or check when verifying compliance. If you notice they don't, it is best to hire only those who comply with the standards, as the contrary could be detrimental to your business growth and reputation.
If you are looking for a safe and compliant delivery software, look no further than Detrack: https://www.detrack.com/accreditations/
Consider scalability
Most companies offering last mile delivery services are often not scalable. Scalability is measuring the company's ability to increase or decrease its level of service or cost in response to demand. Before choosing a delivery company, you need to consider if they're scalable or not.
Scalability allows the delivery business to generate revenue and grow without being held back by a lack of resources. Picking an unscalable delivery company to handle your last mile deliveries can result in several compromises that can affect your business growth.
Choose the Right Company for Seamless Logistics
The last mile process is perhaps the most crucial stage of the fulfillment process. In most cases, it determines whether or not the customer is satisfied. As such, it's of the utmost importance to choose the right delivery company for seamless logistics.
You need to consider features like route optimization, real-time tracking, and integration. Also, tips like tech capability, scalability, and delivery options should be considered when choosing the right company for streamlined delivery.
For delivery companies looking to scale up or streamline their operations, boost revenue, and attract more eCommerce businesses to use their services, it's essential to leverage the cutting-edge features of a delivery management software. Not sure where to begin? Try Detrack Today and increase your chances of being the right company for eCommerce businesses.