3 Ways to Speed Up Same-Day Delivery
26 September 2016 |
3
minute
read
With Amazon recently rolling out its same-day delivery feature, the pressure is increasing for businesses to fulfill orders quickly, accurately, and efficiently. Recent studies have also shown that –
75% of customers have come to expect delivery within two to three days
33% of customers are willing to pay a premium for next-day or same-day delivery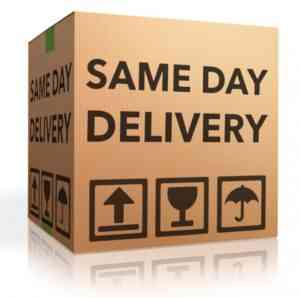 These days, not only do customers expect orders to arrive at their doorstep promptly, some may even demand that their orders are delivered on the very same day. Businesses with the ability to deliver this particular feature would certainly set themselves apart from their competitors.
Two key components that need to be in place are –
Effective real-time warehouse and inventory management system
Same-day delivery capability
For inventory management systems, there are many available in the market, some of which are very affordable SaaS (Software as a Service) that charges only on a monthly basis.
The last mile aspect for same-day delivery is usually more problematic as the supply chain goes into the hands of drivers where visibility of their progress is often lost. So, how can you go about creating and utilizing a practical last mile delivery strategy that delivers the immediacy and accuracy your customers want? Here we take a look at 3 ways you can consider to speed up your same-day delivery capability and keep your customers coming back for more. The key to deliveries is delivery drivers themselves. Hence, a distraction of any sort can be time wasters and also potentially dangerous. Companies who can seamlessly communicate to drivers the next destination and any relevant information or changes regarding the deliveries would make the drivers extremely efficient.
Utilizing a system with the ability to deliver information to drivers without having to make an actual call will help speed up the process. There are now mobile-based apps that can manage the last mile delivery and facilitate the exchange of information between drivers to the operations team and the customer as well, seamlessly. These mobile apps – usually called POD (Proof of Delivery) apps – are connected to an admin dashboard where the administrative user can log in to access real-time information regarding the last mile delivery.
Drivers can now capitalize on all the accumulated time saved on communication and use it to receive more jobs or focus on completing a particular job. The customer support on the backend will also be able to receive real-time information from the drivers like their location, delivery progress, special delivery exceptions from a system, without having to go through the communication chase of calling the drivers one by one. To save even more time on one delivery to the next, a recipient has to be ready to receive a particular delivery when it has arrived. It would be an awful waste of time for a delivery driver to arrive at a destination in a timely manner only to wait for a recipient or discover that the recipient is not around.
A system or an app with the ability to send automated pre-delivery and en route text messages to a recipient would be helpful. Drivers need not worry about having to physically text a customer and more importantly, need not have to wait at a destination for somebody to receive a delivery.
This is one of the most crucial features required to support same-day delivery as due to stricter time constraints, exchange of the delivery parcel from driver to recipient needs to be managed flawlessly. Any wasted moves will result in more expensive re-deliveries and needless to say, may disrupt the entire delicate dynamics of same-day deliveries assigned to drivers. Customers don't like to wait. And what they hate more than waiting is not knowing where exactly their deliveries are. It is essential for businesses to implement a system that would allow them to provide automated real-time delivery status updates.
This particular feature would not only give customers a peace of mind; but it would drastically reduce the amount of time spent on communication between customers and the company. Customers can now check for themselves the progress of the delivery, and know exactly where their deliveries are all the time. The company in return, need not worry about handling customers' inquiries regarding delivery statuses.
With more time for drivers to focus on completing jobs, a same-day delivery option is now not only a hopeful target but a realistic goal that can be comfortably achieved.
If your business is looking to provide a same-day delivery option, these 3 features are essential. The features would allow drivers additional time for deliveries, keep customers informed (remember, informed customers are happy customers) while allowing the company to run smoothly and efficiently.
Detrack is a 2-in-1 cloud-based vehicle tracking and real-time proof of delivery (POD) solution that can power your same-day last mile deliveries.
Create an account and try Detrack today!