In the delivery world, it is essential to understand how to deliver packages to customers. The importance of an effective delivery management system cannot be over-emphasized. As such, efficiently delivering packages, parcels, and other items from one place to another is vital to the business's success.
The delivery industry is increasingly competitive by the day due to the latest inventions and ideas. Due to this reason, it's becoming a more difficult task to acquire new customers and even more challenging to convert them into regular customers. While having a unique selling point to build a reputable and stable delivery business is essential, delivering packages like a pro is also critical to success in today's times. So, you must ensure a fast and reliable delivery process to customers by leveraging delivery management software and systems.
Understanding Package Delivery: How To Deliver Packages
Package delivery services are carrier businesses that care for, ship and deliver packages to clients at their residences, stores, homes, offices, or any other preferred destination. Carrier package delivery services have become increasingly popular and offer clients/businesses a cost-effective way to send their items nationwide. Due to the increasing needs and growth of the e-commerce industry, package delivery services are often met with the question of how to deliver packages faster.
The package delivery process usually depends on the contract, company, location, and other factors. Either the company provides its fulfillment center to a depot which will be picked up by a carrier and delivered to customers, or the carrier picks up the item or package directly from the seller/sender and delivers it to the specified destination.
In the package delivery business, carriers often select packages and items having a similar or close destination to reduce transport costs and time. By coordinating packages with area-specific delivery, you can reduce the entire journey to be undertaken and carry out several deliveries daily, thereby reducing the worry of how to be a faster delivery driver.
While some companies may use multiple carrier services to fulfill orders, others may use your delivery service depending on the area of delivery and bulk cost.
Types of delivery services
There are seven types of delivery services. They're explained below:
Standard Service
This type of delivery service is mainly used and is a cost-effective method of sending packages to various destinations. Standard delivery service is majorly used when prioritizing weight rather than size. Compared to expedited delivery, standard service ensures that packages arrive within 2-3 days, making it more cost-effective.
Same-day Services
Just like the name implies, this service focuses on delivery packages with an expected delivery time of fewer than 18 hours, making it common among customers with emergency requirements.
Express Service
This delivery service is known uniquely for receiving and delivering packages to destinations within a specified area. The delivery is usually done within the same day, making it perfect for companies that depend on confidential and private communications.
Parcel Services
Parcel delivery services are in demand because they deliver to remote areas within the same day and deliver big and small packages except for specific items.
Overnight Services
Overnight delivery service is usually operated after the standard carrier time, making it a good option for businesses that send emergency packages.
Freight services
Freight delivery services are offered in two ways, Full Truck Load (FTL) and Less Than Load (LTL). This delivery service also allows businesses to send their packages via a van if they don't prefer the options mentioned above. Freight services are an excellent option for businesses that usually send bulky or hazardous packages.
On-demand Services
This delivery service is used majorly for medical emergencies and other deliveries that cannot be missed. On-demand delivery means the customer's package is delivered within a minimal duration.
The Delivery processes
In the e-commerce industry, the delivery process involves all steps from receiving a customer's order or package to preparing it for delivery to the final destination. Delivering a package usually involves managing orders, warehousing, and building relationships with carrier delivery services.
The three main processes or stages of delivery consist of receiving an order, processing it, and fulfilling the delivery. All three stages or processes usually affect how quickly and correctly an order can be prepared and delivered to its destination.
Here's a deeper look into the three stages of a delivery process.
Stage 1: Receiving the order
The first step of the delivery process is to receive the order. Once it is done, ensure that there's enough inventory to process the order received. This can be achieved by close work with suppliers or manufacturers to receive inventory in a warehouse or send the inventory to a third-party delivery service fulfillment center.
An inventory management system can easily streamline customer orders received and track orders and inventory in the same place.
Stage 2: Processing the order
This process refers to all measures taken to verify order data, ensure it is correct, and check the availability of ordered items. Most of the activities in this stage can be done with technology to speed it up. After this, the status of each order can be updated in real-time, and customers can get notifications that their orders are being processed. Also, they won't have to worry about questions like how to make a package come faster.
Stage 3: Order fulfillment
After processing the order, the next and final stage is order fulfillment. This process involves selecting the packages and preparing them for delivery. For e-commerce businesses, there are different options for order fulfillment, like dropshipping and self-fulfilling orders. However, the most commonly used option is to outsource the package's fulfillment to a third-party delivery service for last-mile delivery.
If you're wondering how a typical process of delivering a package might look, here's an example below:
Sellers drops off packages at local depot
Depot contacts carrier to come and pick up a package
Carrier, following the proper rules, drives to the customer's location to deliver the package
Carrier drops off the package in good condition with the customer
Carrier drives back to the local depot for additional packages or end of shift.
If you're an independent carrier, your duties will be picking up, transporting, and delivering the packages. You can use a bike, car, van, or truck as an independent carrier when making deliveries. Your clients are typically contracted through carrier service companies or job boards, direct referrals, or online services.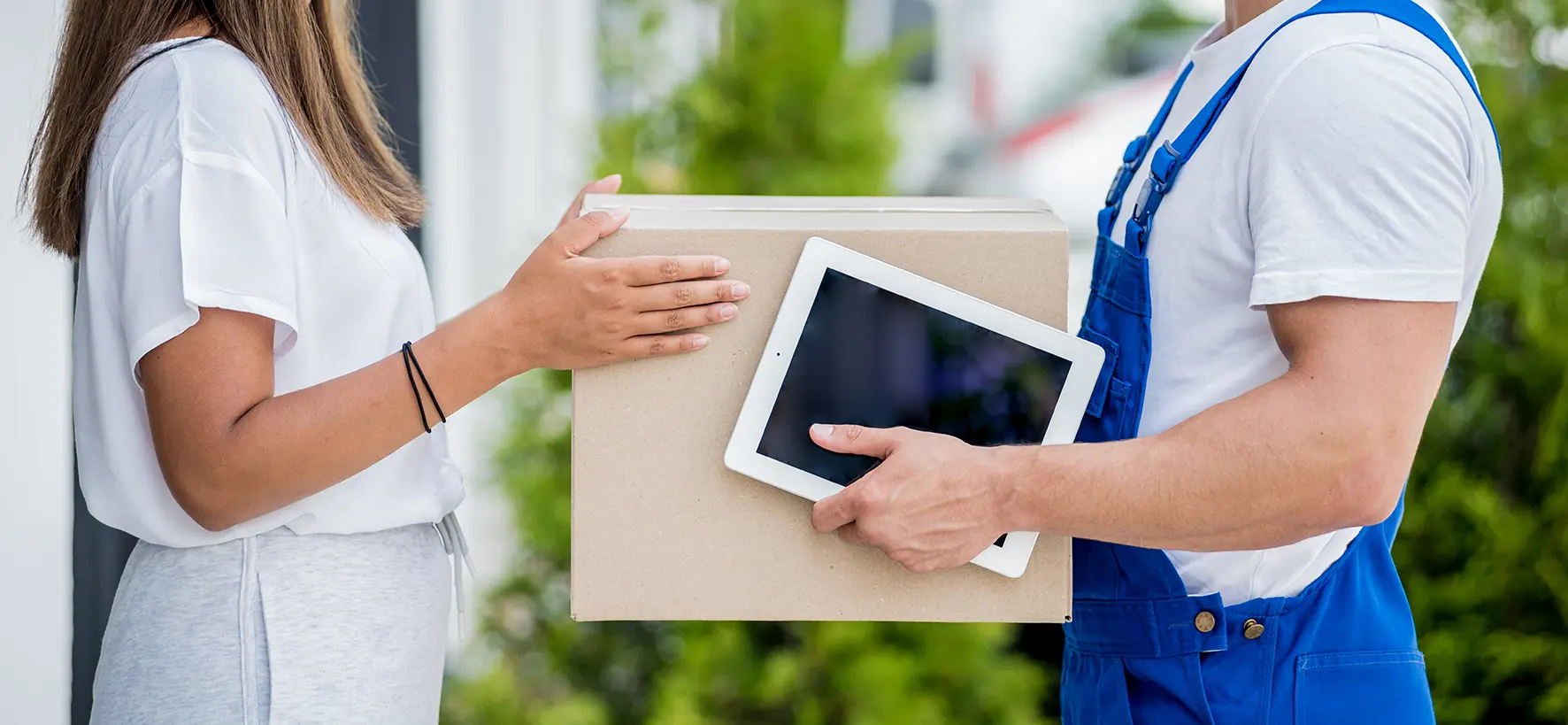 Common Challenges Faced In Delivery
The constant demand for efficient and faster delivery of packages often results in several challenges for carrier companies. So, here are some of the common challenges faced and possible delivery solutions.
Lack of visibility
Having poor visibility on carrier operations is a major challenge in delivery. Proper visibility and transparency ensure that packages are kept intact and delivered promptly. So, companies lacking visibility will face the issue of late deliveries and the inability to track packages.
Keeping customers updated
It is necessary to keep both the end customer and the e-commerce company updated with the package status to maintain transparency. It also reduces the frequency and number of calls from customers to the support center. However, most delivery services struggle in this aspect due to a lack of delivery management software that enables package tracking.
Delivering packages without damage
One of the biggest challenges faced by delivery services is delivering packages without damage. When a package or item gets damaged in any way, it can affect the reputation of the carrier service, and you might be required to pay for it. Also, it can increase the rate of package return. To prevent such issues, ensure all packages are properly packed and wrapped.
Inability to manage various customers
The top customers for carrier service are e-commerce companies. Since most carrier delivery services usually have several e-commerce businesses they serve, it often results in mismanagement and failure to keep a proper record of orders and COD (cash on delivery) remittances. In such cases, it's essential to have a management system in place to handle orders and keep a proper track record of cash inflow and other processes.
Highly competitive industry
Whenever people think of courier delivery services, massive companies like DHL, FedEx, UPS, USPS, and Royal Mail are often the first options that come to their minds. The presence of these companies tremendously increases the industry's competition making it difficult for local delivery services. However, despite the competitive market, carrier delivery services can focus on offering personalized services to their customers. Creating a unique service will help stand out from the large crowd.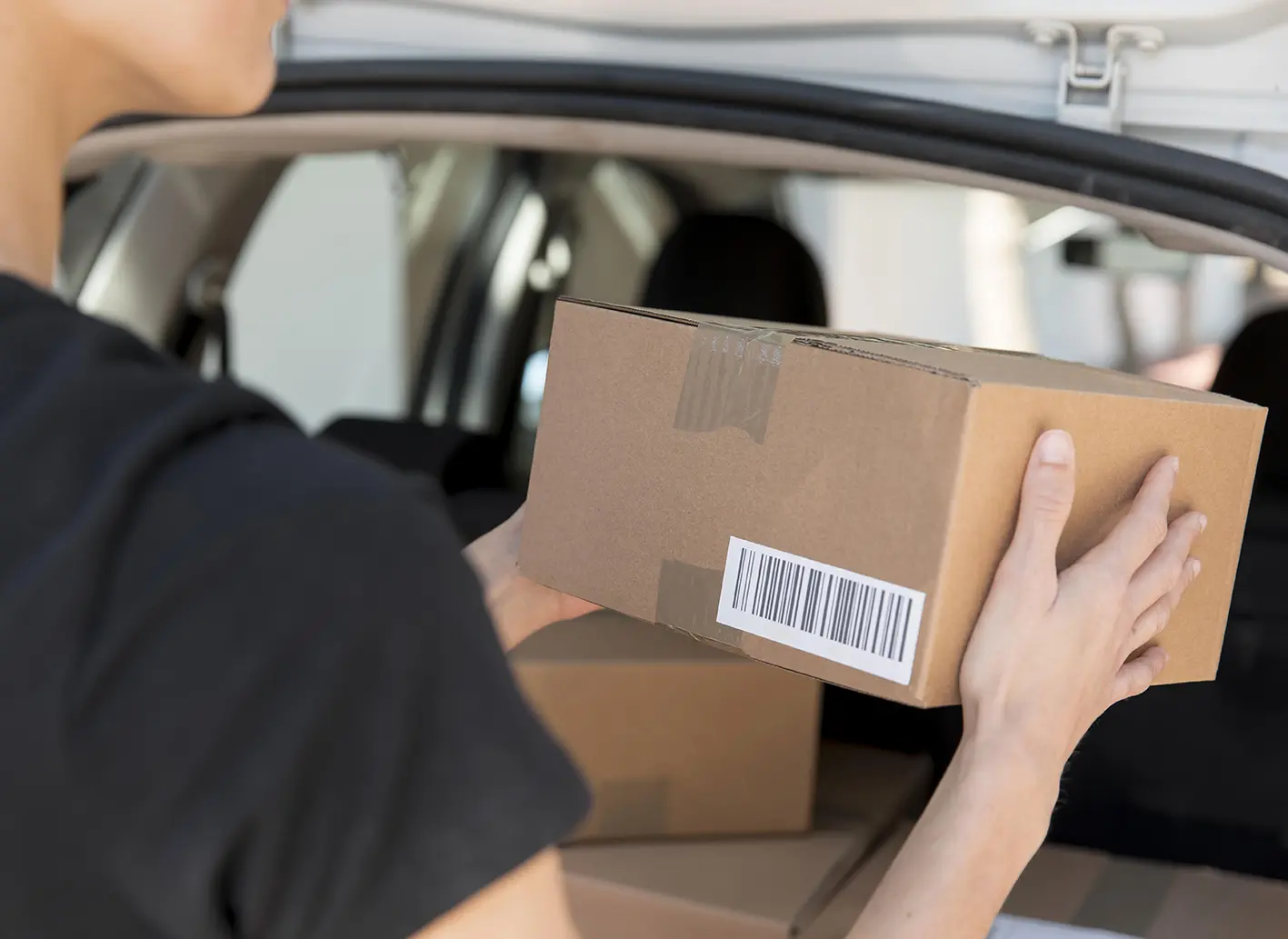 Best Practices For Package Delivery
Providing top-notch customer service and controlling the delivery cost is an essential aspects of the business. As such, delivery service companies need to know and implement the best practices for package delivery to make delivery operations efficient, gain more competitive advantage, and increase the loyalty of customers. Below are some of the best practices you can follow.
Preparation
If you are wondering how to deliver amazon packages faster, then locating a package at each stop is a great way to speed up your delivery process.
Searching through your vehicle or van for packages at any stop will result in time wastage at the day's end. Instead, organize the packages in your vehicle based on their drop-off order and address. Doing this will reduce the stress and time spent at each destination. Also, when preparing, it's necessary to pick all the essential items you'll need, put on the right clothes and, take bags, then plan for bathroom breaks.
Labeling and Packaging
Before setting out for delivery, it is essential to label all packages numerically, alphabetically, or in any order that allows you to sort them quickly. The idea behind labeling packages is to prevent any mix-up or wrong delivery of packages.
In addition, it is vital to package all items properly. While boxes are available in several sizes and shapes, using specific sizes or shapes of the box will simplify your packing operation. It will allow a maximum number of items to be loaded into the vehicle or van, thereby increasing the number of packages that can be delivered within a stipulated time frame.
Route optimization
One of the best practices to deliver packages like a pro is to ensure you plan your route before going out for delivery. Proper route optimization will make things easier for you as a carrier. With route planning, you'll be able to find your destination easily, reducing time spent on each delivery by helping you avoid backtracking and traffic jams.
Real-time tracking:
Most customers are usually anxious to get their packages, but carrier delivery services often delay in meeting the delivery time, which frustrates the customers. Using a real-time tracking system that lets customers keep track of their package's location and notify them of the estimated delivery time can help ease the customer's mind before your arrival.
Customer communication.
The behavior of customers plays a vital role in your overall delivery performance. Lack of availability and delays are examples of factors contributing to delivery failure. So, to avoid cases where customers are not available to receive their package, ensure you communicate and notify them frequently during the delivery process.
If you notify customers of their packages' estimated arrival time, they can prepare in advance. As such, you'll save some time and build healthy relationships. Delivering packages isn't all about more than just getting the item to the customers. It's about providing a remarkable experience that is concluded by a right-time and efficient delivery.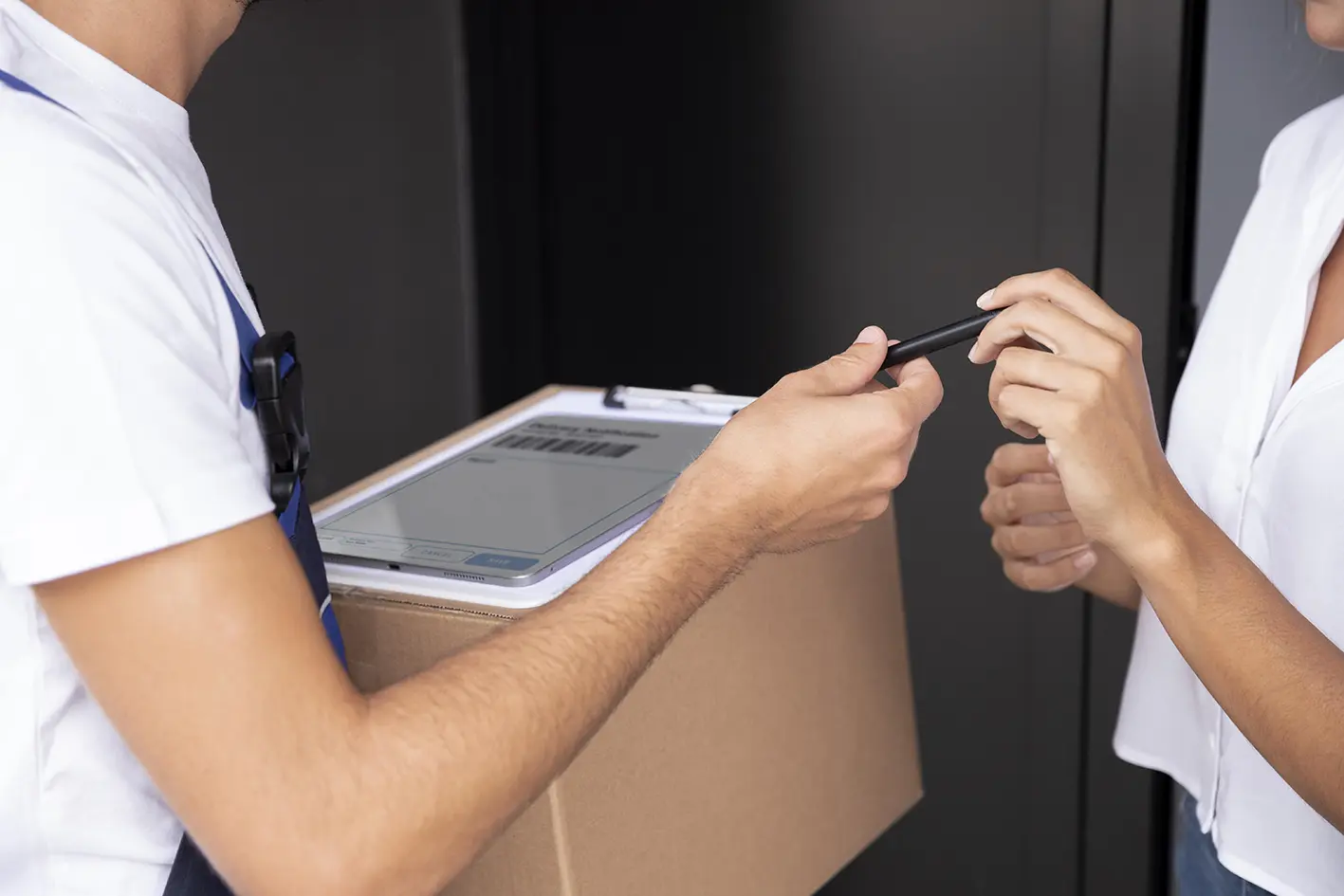 Making Delivery Smarter With Delivery Management Software
In today's world, time is essential for most businesses, and the delivery industry isn't any different. When you fail to deliver packages in a timely manner, you will lose most of your customers. As such, it is vital to utilize delivery management software and systems to introduce automation into each step of your delivery process, from communication between drivers and customers to managers and drivers. In doing so, you'll be able to plan and execute ways of making deliveries smarter. A delivery management software also allows you to have efficient route optimization, which will enable you to make good decisions based on rules of costs, volumes, and other objectives without wasting precious time on the slow-moving and arduous manual process
Benefits of implementing a delivery management tool
Delivery management software or tools helps to optimize the activities of your business. It oversees the entire delivery process from start to end. So, here are some of the benefits of using a delivery management tool.
Streamlines delivery processes.
Delivery management tools allow you to organize all aspects of your delivery process in one place. Customers often complain and blame delivery businesses for their inefficiency in handling paperwork and bills. So, to keep the process transparent, you can try Detrack and use its ePOD feature that allows for a faster, streamlined, and easy way of maintaining a document's trail. With the electronic proof of delivery (ePOD) feature, you can streamline your entire delivery documentation and eliminate the use of paperwork while capturing useful pictures and data to confirm the delivery of a package, either in whole or with any damage.
Enhances customer experience.
Each customer's experience plays a vital role in the success of a business. In the delivery industry, customers consider several factors before deciding on which delivery company to patronize. One of those factors is quality service. With the right delivery management tool or software, you can provide a good customer experience and increase retention by ensuring that they feel important, valued, and receive their packages in a timely manner.
Manage and control orders.
A delivery management system will help you to manage your orders properly. By having a central database for orders and deliveries, you can easily control the delivery process by staying updated with delivery information and schedule, ETAs of drivers, and their assigned packages. It also allows you to get ahead of any possible issue.
Reduces costs and Time.
One of the main reasons for using delivery management software or tool is to reduce costs and save time. These tools can help you improve efficiency and communication and reduce time spent on delivery through route planning. You can also save money by reducing fuel costs. Book a demo to see how our delivery management system can help you save time and lower costs.
What To Look For In The Right Delivery Manager Software
While there are several reasons why delivery businesses might want delivery management software, there are certain features of an effective DMS that will help you maximize your business goals. They're listed below:
Route optimization: Allows for proper planning of a cost-effective route for delivery.
Scheduling and dispatching: This feature allows you to plan and coordinate delivery and select drivers and vehicles for delivery.
Real-time tracking: Ensure the business and customer have real-time knowledge of the package's location to ensure they arrive timely.
Proof of delivery: Allows the business to take electronic records of and save evidence of delivery through pictures and signatures.
Reporting and analysis: This feature helps to provide data on driver's performances based on delivery rate, customer satisfaction, and delivery cost.
Integration with other systems: This feature allows for smooth integration with other management systems like accounting.
Mobile app: This feature provides access to customers and drivers through mobile apps to allow easy tracking.
Delivery Packages Better With Detrack
Delivering items to customers promptly without damage to the package or stress to the driver or customer is the goal of every driver and delivery business. Whether you're covering a large demographic area or a small town or area, understanding the delivery process, challenges faced in the delivery industry, the best practices for package delivery and a delivery management software like Detrack are integral in delivering packages like a pro.
Try Detrack today to deliver packages on time and have a higher chance of increasing your earnings, saving time, reducing stress, and winning a customer's trust or confidence.