Showcasing the best in transportation and logistics and the prowess of Indonesia becoming a global competitive logistics player on 19th – 21st October at Jakarta International Expo, Kemayoran
The wait is over! Yes, the long wait for the only dedicated transport and logistics event in Indonesia is finally over, as Indonesia Transport Supply Chain & Logistics (ITSCL) is taking place in just a few days!
The three-day convention – already expecting over 6,000 visitors – is the leading platform to discover new products, ideas, and technologies for the transport and supply chain industry. Besides bringing opportunities for sourcing, networking and learning, ITSCL aims to be a key partner of the industry by bringing government, international and domestic participants of the complete transport and supply chain industry all together under one roof.
Detrack simply could not turn down the invitation to come and exhibit at ITSCL, and we have been waiting patiently – or rather, impatiently – for this highly anticipated event. With exhibitors from over 20 countries, you can expect a plethora of transport and logistics related activities over the three days.
Visitors will be treated to various trade exhibitions, networking cocktails, and live demos along with in-depth discussions with over 40 international and regional conference speakers.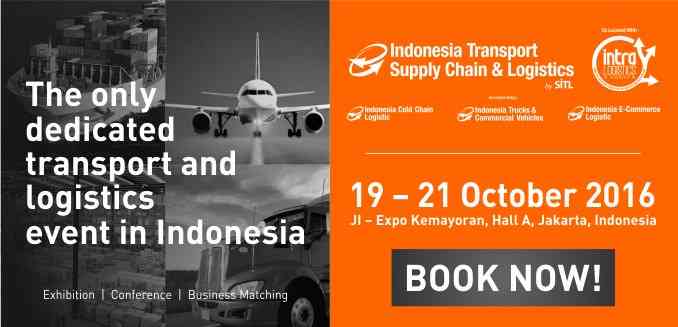 As the leading global platform that is geared towards all areas of the industry, ITSCL showcases current trends, presents innovative products, highlights new market opportunities and helps foster the development of new technologies and applications. Besides embracing every facet of various aspects of the industry such as E-Commerce Logistics, Cold Chain Logistics and Trucks / Commercial Vehicles among others, this dynamic event will also showcase Indonesia's lusts of becoming a global competitive logistics player.
The 2016 edition of ITSCL promises to unravel the future of Indonesia's growing transport, supply chain, logistics as well as material handling woes and provide workable solutions which you can implement in your daily tasks. Detrack is part of that solution, and our entire team is looking forward to sharing with everybody how we can help and make your last mile delivery a breeze.
Detrack will be proudly joined by our partner in Indonesia, GrabExpress, an app-based express courier service that promises speed, certainty, and most importantly safety. We would love to chat, so drop by Detrack's booth to exchange ideas, learn more about what we do, find out what GrabExpress has to offer or just say hi. Can't wait to see you there!