COVID-19 has gravely affected everybody in the world, some more so than others. In Singapore, the pandemic have hit many families, especially vulnerable ones, more than you are aware of.
Then, there is Project R.I.C.E.+ to lend a hand
Project R.I.C.E.+ is a nation-wide collection and distribution drive championed by youth leaders from Singapore Red Cross, to bring food and daily essentials to vulnerable families in Singapore.
Beneficiaries include low-income families, skipped generation families, single parent households, the elderly, and also migrant workers.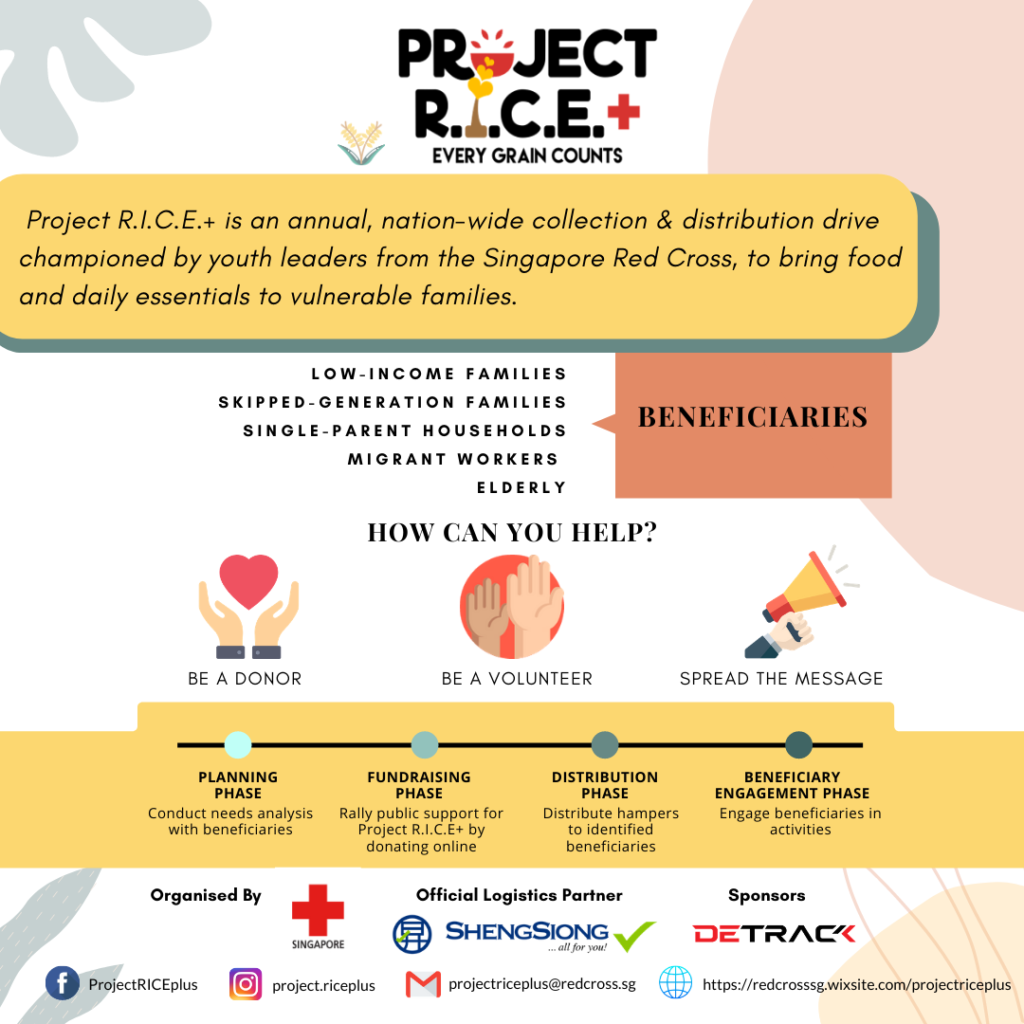 The fundraising effort by Project R.I.C.E.+ stood out the most as there is so much thought and heart put in to ensure beneficiaries of the project receive the most necessary and needed items possible.
Enormous effort and care was made to avoid scenarios where recipients receive thoughtless items like multiple bottles of soy sauces or boxes of salt, when they are unable to do their own cooking.
Instead, beneficiaries can choose carefully curated items which are conveniently categorized in 4 different bundle sets.
For example, set A includes daily essentials like soap and toothbrushes/toothpastes, while set B and C include different food items ranging from instant coffee and crackers to cooking oil and rice. Set D on the other hand will include necessities like adult diapers (which can be very costly but much needed) and wet wipes, among other items.
It was a massive effort by the students and youth leaders from the Singapore Red Cross to run the project and get it off the ground. From organizing the fundraising to planning the delivery phase, the passion they displayed to help those in need was incredibly inspiring, and very infectious.
Detrack has pledged our support to Project R.I.C.E.+. Besides being a sponsor, we provided free use of our tech to help plan and manage the deliveries. Also, all our staff members personally volunteered for the cause, and took part in planning and delivering.
But we really cannot do this alone.
We hope that together with you, we can bring hope and real care to those who need it most amidst this COVID-19 pandemic.
No matter how small, please pledge a donation to help today.
https://redcross.give.asia/campaign/project-r-i-c-e-2021-5718#/