Internet Retailing Expo taking place on 18th & 19th January 2017 at Pullman Jakarta Central Park
The anticipation for the dream expo for anyone interested in anything regarding internet retailing is reaching a boiling point, but everyone can finally take a breath, re-charge, and brace yourselves for Internet Retailing Expo (IRX), Indonesia 2017, which is finally happening next week!
Indonesia's biggest and most diverse internet retailing expo is the platform for marketplaces multi-channel retailers and online retailers to meet their key suppliers and learn through knowledge sharing and best practice implementation.
Already expecting a crowd over 2000, treat yourself with an exhibition showing the world's leading solution providers in the areas of digital infrastructure and innovation, digital payments, last-mile fulfillment and many others you can surely expect from a true one-of-a-kind expo.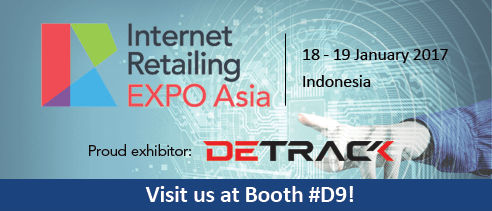 Detrack did not hesitate to accept the invitation to exhibit at an expo that would surely be the talk around town and what better way to start our 2017 than to have a super experience in the beautiful city of Jakarta. The last time we were here, the entire team left with a tremendous amount of new insights and knowledge of how Detrack could help companies in Indonesia and the rest of the world benefit with our simple-to-use software and app.
Besides Detrack, all visitors would get to meet, engage and reach a diverse audience of both offline and online retailers, infrastructure services, and enterprise as well as government entities. More than 40% of attendees at retail technology events are decision makers coming to the show primarily to buy products and learn from the latest retail technology including mobile commerce trends and growth. This e-commerce expo is becoming the leading platform for Indonesia retailers, all supported by the leading associations in Indonesia.
So, head down to Pullman Jakarta Central Park on the 18th and 19th January 2017 to get ready to have your mind blown when you learn how you can digitally transform your business. We're friendly, so say hi, and I can promise you won't regret it.