Due to the rise of online e-commerce stores, the delivery service industry has seen an exponential growth rate of 8.2% per year, with projections showing the market is expected to reach a whopping $326.32 billion by 2035. The increasing need for items to be delivered with a top-notch service means getting the correct delivery services for small businesses is essential to succeeding.
Suppose you are considering starting a delivery business to meet your delivery demand or looking at your business's delivery options, like outsourcing to third-party delivery services. In that case, this article contains all you need to know as a small business owner, from the types of small business delivery services to factors you should consider when choosing a delivery service.
What are the Types of Small Business Delivery Services?
When considering small business delivery services for your business, it is essential to note that several options are available. The options available vary according to the business industry they serve or the nature of their delivery services, and each of these delivery services has its specific delivery requirements.
Below are some of the most common delivery services available to small businesses.
Courier services
This type of delivery service is one of the most used and necessary delivery services for small businesses — either B2C or B2B. As a result of the rapid rise of small e-commerce stores, there's an increasing demand for courier services because it's one of the most successful and reliable types of delivery for small businesses. Well, not just for businesses, but for individuals who need to send and receive items and parcels.
Courier services usually consist of four types: international courier services, standard courier services, overnight courier services, and express courier services. For small business owners looking to use this type of delivery service, choosing one with good versatility in your state or county is essential to ensure the timely delivery of packages.
Food delivery service
Most restaurants have experienced drastic changes as customers now prefer their food delivered to them within minutes rather than coming in to dine and eat. As a result, food delivery services are now increasingly needed.
This type of delivery service requires few resources to run because it's usually confined to a city or even a community. They help deliver customers' orders promptly. Restaurant owners can efficiently utilize delivery software for small businesses to plan deliveries, reduce operational costs and maximize profit. Detrack's delivery management software can help plan effective routes to avoid high-traffic areas.
Medicine delivery
This type of delivery service is used by those in the medical field, like the healthcare and pharmaceutical industry. They specialize in delivering medicines, medical items, reports, records, prescription drugs, lab samples and specimens, and sometimes blood and organs to healthcare or medical facilities for analysis and examination.
According to statistics from IndustryARC, the medical delivery industry is worth around $7.1 billion and has been forecasted to have a 5.5% growth rate for the next five years. So, most businesses in the healthcare field use medical delivery services to send items.
Groceries delivery
In the United States, there are over 63,000 supermarkets and grocery stores, and people shop in either one at least eight times a month. While about 69% of people prefer to shop alone, 16% prefer having their groceries delivered. These statistics show that grocery delivery is one of the most used options.
It delivers customers' shopped items like canned food/goods, cereals, seafood, meat, bread, and rice. Small grocery businesses can also use grocery delivery services to bring their goods or grocery items from a manufacturer's warehouse to their retail shop. This type of delivery prioritizes timely and safe delivery of items.
On-demand delivery
The need for faster and more convenient ways to send packages brought about on-demand delivery. This type of delivery service is used by small businesses to allow their customers to place orders and have them delivered within a given timeframe. It's usually used by industries like food and medicine that require urgent delivery.
On-demand delivery has been existing for several years. However, the recent rise in e-commerce platforms and online shopping, and delivery services has made on-demand delivery highly sought after.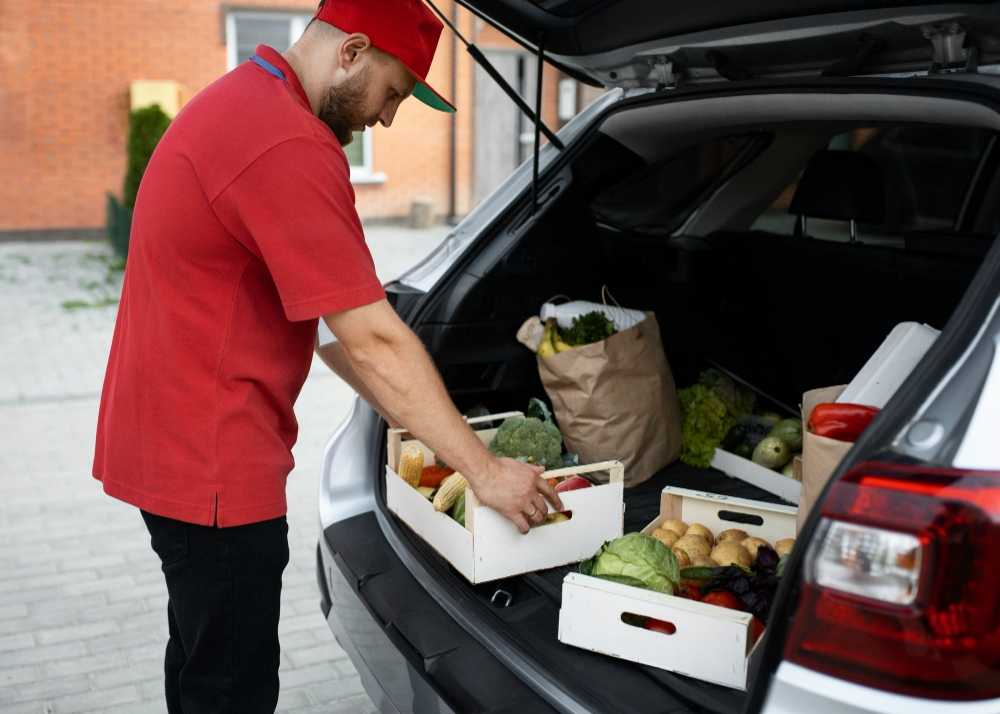 What Are Some Delivery Challenges that Small Businesses Face?
Running a delivery business can sometimes be overwhelming due to the several challenges you may face. These challenges range from daily operations to delivery fees, resource management, or delivery routes. So, here are some of the most common challenges experienced.
Route planning
Without proper route planning, delivery businesses might experience severe customer complaints due to late deliveries. Also, if not properly done, it can be a major issue as the process often takes long hours without proper experience or any software. However, with efficient delivery routing software for small businesses, you can plan your routes in seconds and increase your deliveries and profit. 
Reliable staff
All delivery businesses depend on human resources to succeed. However, delivery businesses are often faced with unreliable staff or an increased need to hire more, which can greatly affect their productivity and operational cost respectively. Without a proper functional staff team, a delivery business can run into losses and eventually fold up from incurring more losses than profit.
Delayed deliveries
Several reasons can result in delayed deliveries. Some include faulty vehicles, route issues, or even driver issues. In the delivery business, delayed delivery is dangerous, especially when running same-day delivery, as it can result in a lack of customer trust, a bad customer experience, or even a loss of the client. It becomes imperative to have delivery tracking software for small businesses to ensure you're always informed of your driver's location.
Damages
Avoiding damage to customers' packages is essential in the delivery business but also a difficult challenge faced by delivery companies. Damaged packages are often caused by mixups in packages which causes the driver to search through a pile of items before getting an exact order. It leads to a bad customer experience and, sometimes, returned packages that the delivery company pays for. However, shipping software that can automate many tasks, such as labeling packages, can help reduce or prevent instances of mixed-up packages resulting in damages.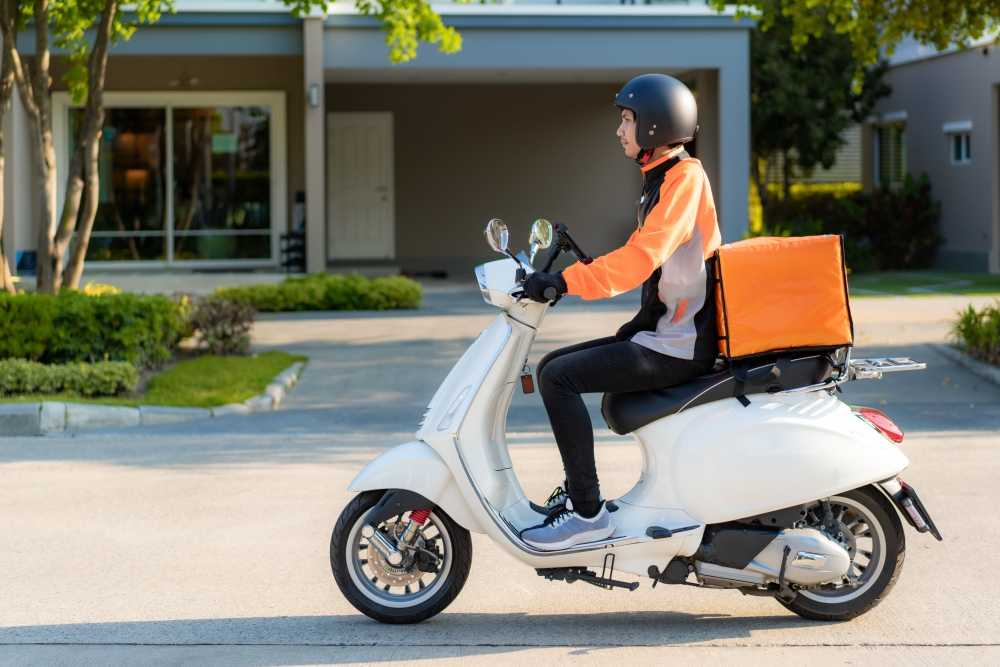 Delivery Options for a Small Business
Small businesses experiencing increased demand often struggle to keep pace with deliveries, leaving them considering other delivery options like outsourcing or running the deliveries themselves. It is essential to note that outsourcing your deliveries results in uncontrollable risks, which can pose a big problem for your small business in the future. So you need to carefully consider both options before making a choice.
Outsourcing to a third-party delivery service
This method involves subcontracting the delivery process to a third-party delivery company. While this might seem like a great option, hiring a third-party delivery company has some issues. For example, you won't control the shipping accuracy and the experience your customer may receive. Also, this option means you'll lose access to vital resources like customer insight and data that can be used to improve your service and products and increase sales.
Without a proper understanding of your customer base, it's tough to know their needs so you can tailor your delivery to suit them and keep their patronage. You may also be faced with a separate issue if you run a business with specialized needs or one that requires items and packages to be delivered under certain conditions.
For instance, if you run a grocery store with several customers ordering items like frozen foods that require a specific temperature to remain good. When your third-party delivery partner fails to deliver such items in a refrigerated truck, they could get spoilt before arrival. In such cases, you'll face multiple return policies cases, exchanges, or even negative reviews.
Offering your own delivery
For small businesses, this option might be the best for you. It allows you to oversee and optimize your delivery process using your employees and resources. The most notable aspect of this method is that it gives you control over the entire delivery process. By utilizing efficient delivery management software, you can ensure all orders are delivered on time and in the right manner.
Offering your own delivery also allows you to create a better experience for your customers since you're in control of how they receive their packages. Most small businesses use this option for better order fulfillment without having to pay extra fees to third-party delivery companies.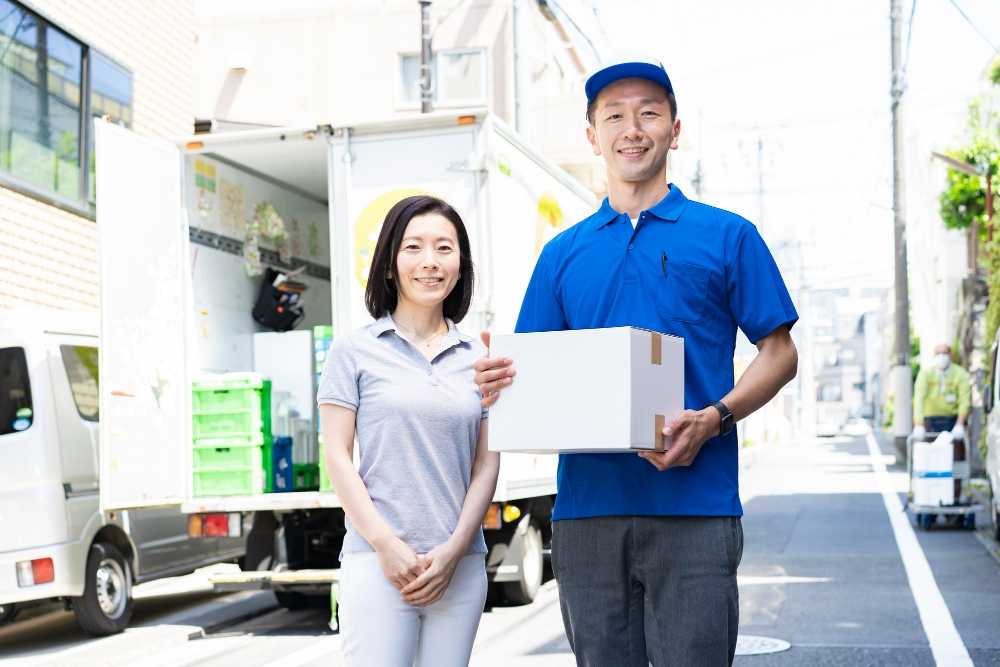 Things To Consider When Choosing Delivery Services
Several factors must be considered when choosing a delivery company to ensure it is the best choice for your small business. Below are some of the factors to consider.
Rates & Pricing
Viewing the rates and pricing of several delivery services that best fit your budget is essential. You can do this by comparing a variety of options. While shipping rates may differ based on speed and weight, it's important that you know the cost before sending a customer's package.
Areas Covered
If your business takes orders meant to be delivered to several areas around the state or country, you need to ensure that whichever delivery company you choose can fulfill your orders.
Delivery Options
A good delivery service offers several delivery options like standard or express delivery for you to pick from. Being able to pick the option that is convenient for you based on your customer's demand is vital in providing a good customer experience.
Professionalism
Choosing a professional delivery company reduces any room for errors or customer complaints. So, ensure you ask around and read online reviews to know the best option for your business. Find out if they have a professional delivery process, what equipment they use, and their experience and credibility with your delivery type.
Run Your Small Business Delivery Better With Detrack
While running a small business might be overwhelming, having a proper delivery plan and tools can help you succeed. Despite the complexity and massive nature of the delivery industry, with the right preparation, you can leverage its benefits for your business. Your business's profitability depends on how effectively you plan your routes and deliver top-notch services.
Detrack helps with the fundamental yet critical aspects of your delivery process. Our delivery management software can simplify your delivery process with ePOD, fleet management, instant notifications, and more features. Try Detrack today to optimize your delivery process and upscale your business.