How Teak & Mahogany Solved Its Logistics Problems
15 October 2014 |
4
minute
read
A more up to date version of this case study is now available here.
Here is what Philip Jensen, Export & Marketing Manager at Teak & Mahogany Pte. Ltd had to say.
As an Export and Marketing manager at Teak & Mahogany, I was continuously faced with two major problems; one was ensuring communication of any issues that might occur on delivery be relayed back to the customer service / sales team. This could be damaged or missing items, quality issues etc.
The other problem was tracking the daily deliveries efficiently without having to call and ask what the statuses were of each driver and how far along they were with their deliveries.
My main goal as a manager was to achieve highly efficient track-able deliveries. By this I mean, tracking deliveries anywhere I am, in real time and be able to search past dated deliveries very quickly instead of searching through thousands of signed paper delivery orders. This would help us easily trace deliveries and reference it for customer support issues.
"Detrack has solved our problems very efficiently and put us ahead of our competition in terms of customer service….At such an affordable price, it is a must-have for all businesses that deals with deliveries."

We had looked for a solution a few years back, but nothing on the market existed then was affordable and fully fits our criteria. Solutions we found would cost S$10,000+ and it would have to be custom-built or integrated into our existing system. There will also be a high learning curve, and we discovered very quickly the user interfaces of the evaluated solutions were complicated and after all that there would be an annual renewal fee.
A recent spate of angry customers calling to ask about deliveries and raising issues with the deliveries, which the delivery team forgot to inform the sales staff, pushed me to look for a solution again. This time around, however, I found Detrack.
How Detrack Solved My problem
I took advantage of the first driver free offer and ran a few tests for its functionality and compatibility to solve our problems. After I saw the results I immediately bought it and had it installed within just an hour.
Now we are not only able to track every delivery in real- time, we are also able to deal with any customer issues in real- time. This is achieved with the emails sent from the Detrack system to our support staff seconds after a customer signs for a delivery. The support staff reviews every delivery order and deals with any issues within the hour and not days.
The communication improvement has been phenomenal! After we started using Detrack, the number of customers' complaints on arrival time issues has been reduced to almost zero. We are able to answer on the spot when customers call in to enquire about delivery status. We also made use of Detrack's feature of sending an automated delivery completion email with full details of the delivery and photos to our customers. Needless to say, our customers are very impressed.
Detrack provided us with a paperless system where we were able to cut down about 70% of paper used to print paper delivery orders and invoices. We have also made significant savings in cutting down the purchase cycles of ink cartridges needed for printing. Storage needs for archived paper delivery orders is also reduced, and most importantly, the nightmare of having to retrieve any paper delivery orders is now over.
Why Detrack Was The Perfect Choice
Besides the great savings of time and the improvement to our customer service, with Detrack, we are also able to maximize the use of our resources, for instance, with the capturing of arrival time to the time where the POD is sent, we are able to calculate and project the time needed for different scales and types of delivery. Now I can optimize the use of my delivery trucks with an accurate gauge of the time needed for each job. We can also cater for even more deliveries in a day.
With Detrack, we are now able to consider live tracking for customers to allow them greater flexibility to when they should be home to receive a delivery.
Detrack has solved our problems very efficiently and put us ahead of our competition in terms of customer service. Simply put – it has done everything we wanted it do and more. At such an affordable price, it is a must-have for all businesses that deals with deliveries.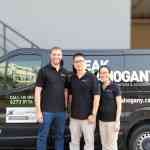 Thank you Team Detrack.