This tutorial is regarding the use of special courier mode in Detrack, whereby there is both a Pickup and Delivery address in a job. This special courier mode can be enabled by Detrack technical team.
This tutorial is for users who have the following workflow:
Pickup (items from customer) > Delivery (items to customer)
Navigate to Settings > Job > POD > Switch On Deliver directly after pick up > Save.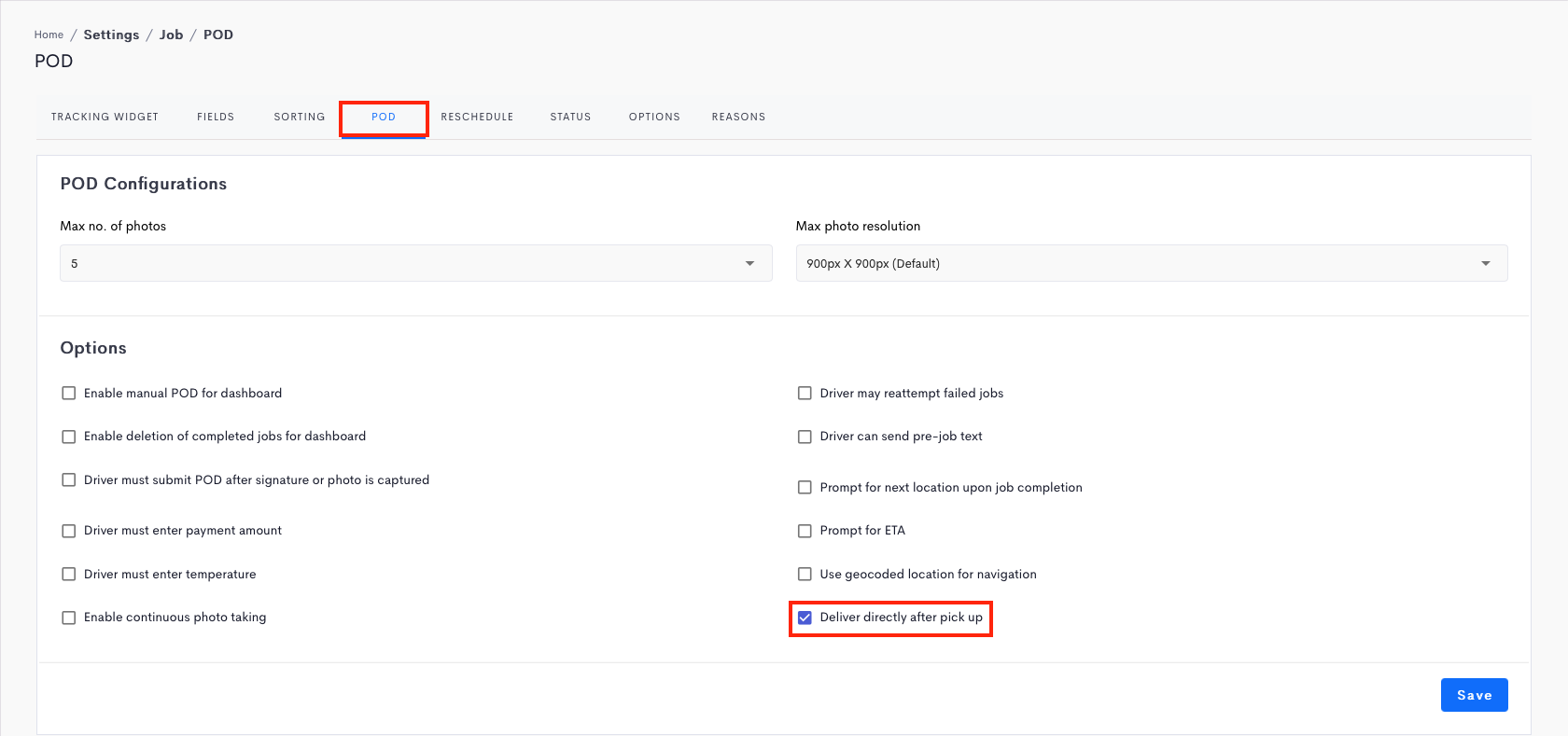 Dashboard
Navigate to Jobs > Select a Date > Delivery.


Click on the Add Delivery button to open a pop-up.

Fill in the job form.E.g.:

Click Save when done
| Field | Description | Example data |
| --- | --- | --- |
| D.O. No. | Unique identifier for your job. | Test1 |
| Address | Enter the drop-off address of your job to send to the recipient. | Delivery Address |
| Deliver To / Collect From | Enter the recipient's name into this field. | Mary Jane |
| Pick Up Address | Enter the pick-up address to collect the item from the sender. | Collection Address |
| Pick Up From | Enter the sender's name into this field. | John Doe |
| Assign To | Select your driver as per registered in your Detrack dashboard. | Driver1 |
Driver App
The job will be displayed in the Driver App.
Screenshot of job being received in the Driver App.

Driver clicks into the Job.

Driver captures Signature and Photo and submits job by clicking the Green Tick button.

Job in Driver App will switch to show the Delivery information. (Pickup portion completed.)

When your driver has completed the Pick Up phase, the status of the job will change to Picked Up.
Delivery Phase
Driver to proceed to delivery location.
Click on the Camera icon to open a menu.

Select Remove Signature > Yes.

The Pick Up signature will be removed.

Proceed with the capturing of the Recipient's signature and photos.

Click the Green Tick button to complete the job.

After the driver has delivered the item and POD the job, the status of the job will change to Completed.