In your admin dashboard, click on the Settings > Jobs.

Under the Fields tab, you can disable fields in Create Delivery/Create Collection job forms if you do not require them.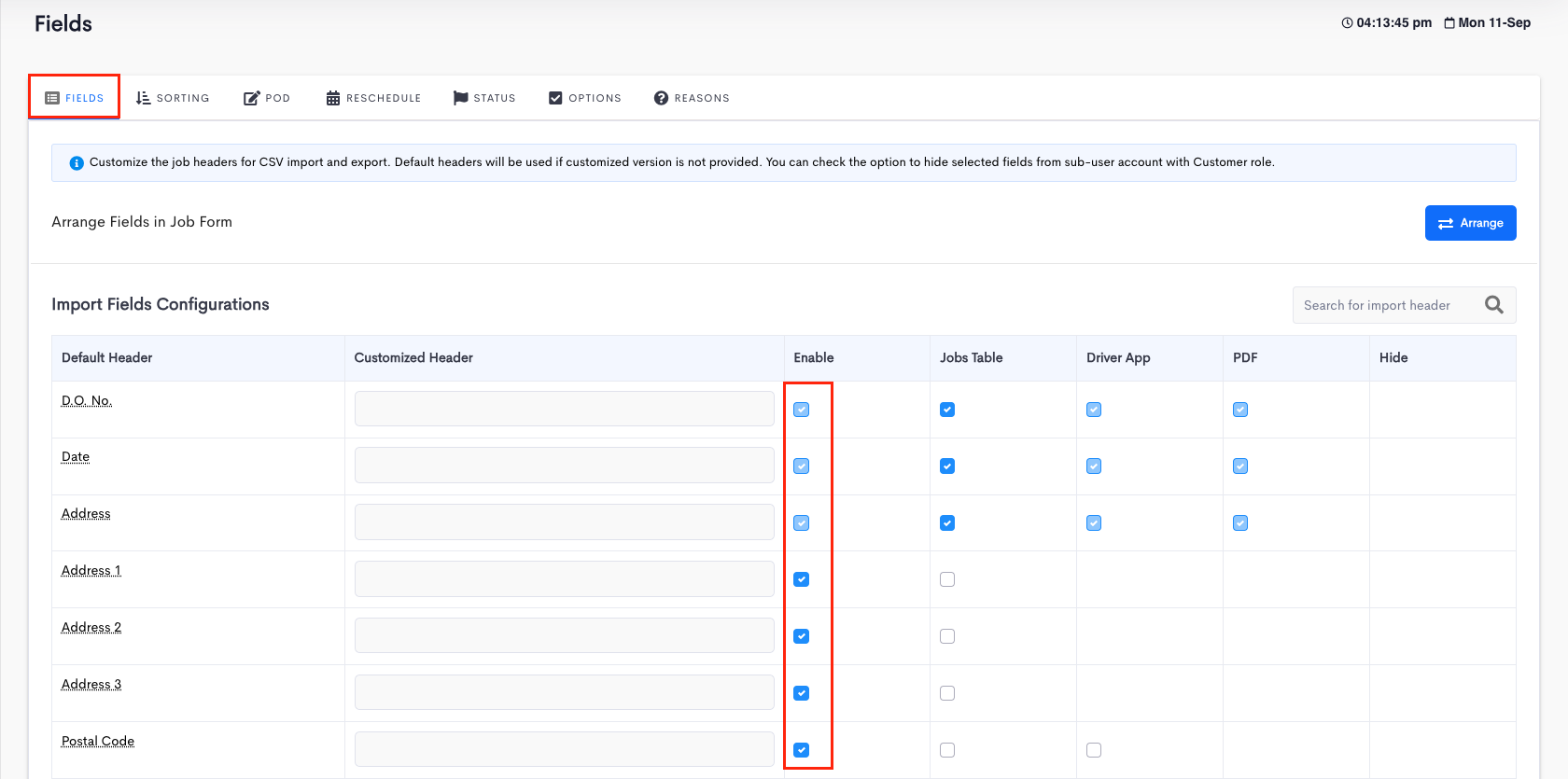 Simply uncheck the checkbox for the field you wish to disable under the
Enable
field (third column) and click the
Save
button.

Available Fields
Job Level
Company Name
Deliver To/Collect From
Last Name
Phone No.
Notify Email
Sender Phone No.
Other Phone Numbers
Fax No.
Group
Primary Job Status
Auto Reschedule
Job Type
Job Time
Time Window
ETA Time
Instructions
No. Of Shipping Labels
Attachment URL
Job Sequence
Run No.
Tracking No.
Order No.
Start Date
Job Received Date
Zone
Address Latitude
Address Longtitude
Job Release Time
Open to Marketplace
Marketplace Offer
Job Fee
Job Price
Customer
Account No.
Billing Address
Job Owner
Invoice No.
Invoice Amount
Payment Mode
Payment Amount
Time Zone
Remarks
Weight
Parcel Width
Parcel Length
Parcel Height
CBM
Boxes
Cartons
Pieces
Envelopes
Pallets
Bins
Trays
Bundles
Rolls
Source
Webhook URL
Carrier
Depot
Depot Contact
Department
Sales Person
Identification No.
Bank Prefix
Insurance Price
Insurance Coverage
Total Price
Payer Type
Service Type
Warehouse Address
Destination Time Window
Door
Vehicle Type
Service Time
Priority
Pick Up From
Pick Up Time
Pick Up Latitude
Pick Up Longtitude
Pick Up Address
Pick Up Address 1
Pick Up Address 2
Pick Up Address 3
Pick Up City
Picked Up State
Picked Up Country
Picked Up Postal Code
Picked UP Zone
Item Level
Item P.O. No.
Item Batch No.
Expiry Date
Unit Of Measure
Item Weight
Comments
Item Level