The More The Merrier
27 April 2018 |
3
minute
read
Detrack has many features. Many, as in our users out there may not even be aware of a certain feature we have many. But we can all agree on something, one of Detrack's most helpful and a client-favorite feature is the ability to print out shipping labels for delivery.

Once generated, this shipping label will include a barcode and QR code that will both represent the Delivery Order Number (D.O. #). The shipping label can also include other vital information for any particular delivery like item description, delivery and collection address, amount payable upon completion, and even the company's name and logo among others.
So, it only made sense for us to take a feature that offered so much convenience for our clients and their customers, and turn it up a notch. The results: a simple, yet significant feature of multiple label printing.
Delivery Woes
Detrack's pantry is restocked more frequent than average (food is a huge deal for the team here), meaning we deal with couriers and delivery companies more often as well.
From our own experience, in every five deliveries, one – sometimes two – will contain a mistake. Minor mistakes like a wrong delivery or incomplete deliveries have happened so often, we usually treat them as commonplace. But why should we have to deal with these mistakes at all? They are avoidable and simply should not happen.

Aline (the one in charge of our pantry restocks and therefore a person whose feelings and feedback are taken very seriously) have shared numerous times how a delivery made was incomplete. The delivery guy has overlooked certain items that were ordered.
Best case, the same delivery guy realizes his mistake and comes back to send the remaining items. Worse case, Aline ends up having to call the store where she made the order in the first place, when they will then have to call up the delivery guy to inform him of the error, leading him to finally deliver the rest of the items, which would commonly – after a super lengthy process – be done only after a few days, or even worse, weeks.
The mistake might be forgivable for a pantry restock, but a more crucial delivery involving medical supplies in a hospital would surely result in more severe consequences.
Minimizing Errors
Please do not get me wrong, we're definitely not blaming the hardworking delivery guys, because the sight of them usually means a fully restocked pantry.
"Sorry, I missed out on that carton."
"Sorry, I didn't realize that box was meant for you."
These are common reasons given to Aline after the missing items of a delivery are finally sent over. Understandable, yet avoidable errors.
Ask any delivery company and they will tell you the significance of multiple label printing.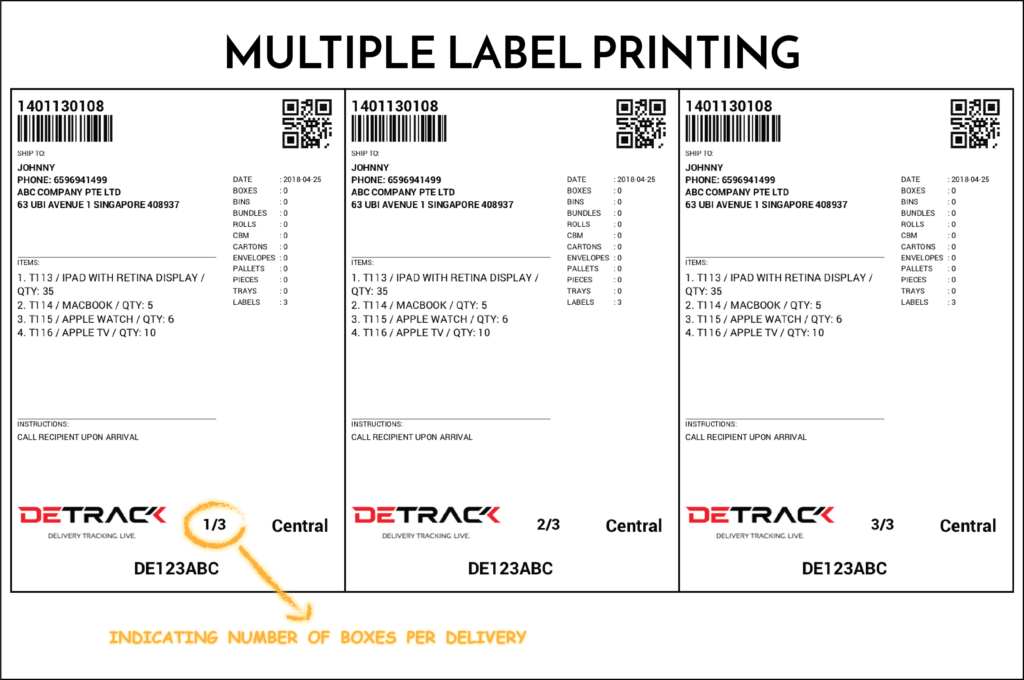 Some companies deal with thousands and thousands of deliveries on a daily basis, so having the ability to print multiple labels would allow a store to clearly indicate the number of packages meant for a certain delivery.
For example, three packages marked 1/3, 2/3 and 3/3 would significantly reduce the chance of a delivery personnel missing out on a particular package meant for a particular recipient.
Simple, yet significant.

Prevention is Better Than Cure
With Detrack's latest tweak on a beloved feature, reattempts at deliveries are reduced, and failed deliveries are substantially minimized. Ultimately, cutting down these typical errors will save operation time and resources – producing a win-win case for everyone involved from customers to stores, along with delivery personnel.
Detrack's been releasing features constantly as we look to make your operations as efficient as they can possibly be. So, stay tune for what's coming next!
#detrack #deliverhappiness #multipleshippinglabel #minimizedeliveryerrors