Issue 27 – Important Changes & New Feature Releases
04 April 2015 |
2
minute
read
Hi there,
There's always something new happening in Detrack.
Here's what's for April.
Important Change In Your Notifications Sender Email Address
Since the beginning, we've always allowed our users to customize the sender email address for their Detrack notifications.
However, due to clamp down on phishing emails (What is phishing?), we find ourselves in a position where we either change the way we send notifications on behalf of our users, or risk getting blacklisted by major email servers around the world.
In view of this, we will be rolling out a change on the 24th of April where all your Detrack notifications will be sent out from our default sending email, notify@detrack.com, but still maintain your current "From name". We will also set the "Reply-to" email address to your current "From email".
In this way, your customers will continue to see your branding ("From name") and will be able to reply to you directly ("Reply-to"). Most of your customers will not even notice the difference!
If you have any question regarding this change, please send us an email at: support@detrack.com
New Feature Highlight
You can now customize your POD (PDF) with not just your own logo but your company address, custom fields' headers and the title too! We have an infographic right here to walk you through this new feature.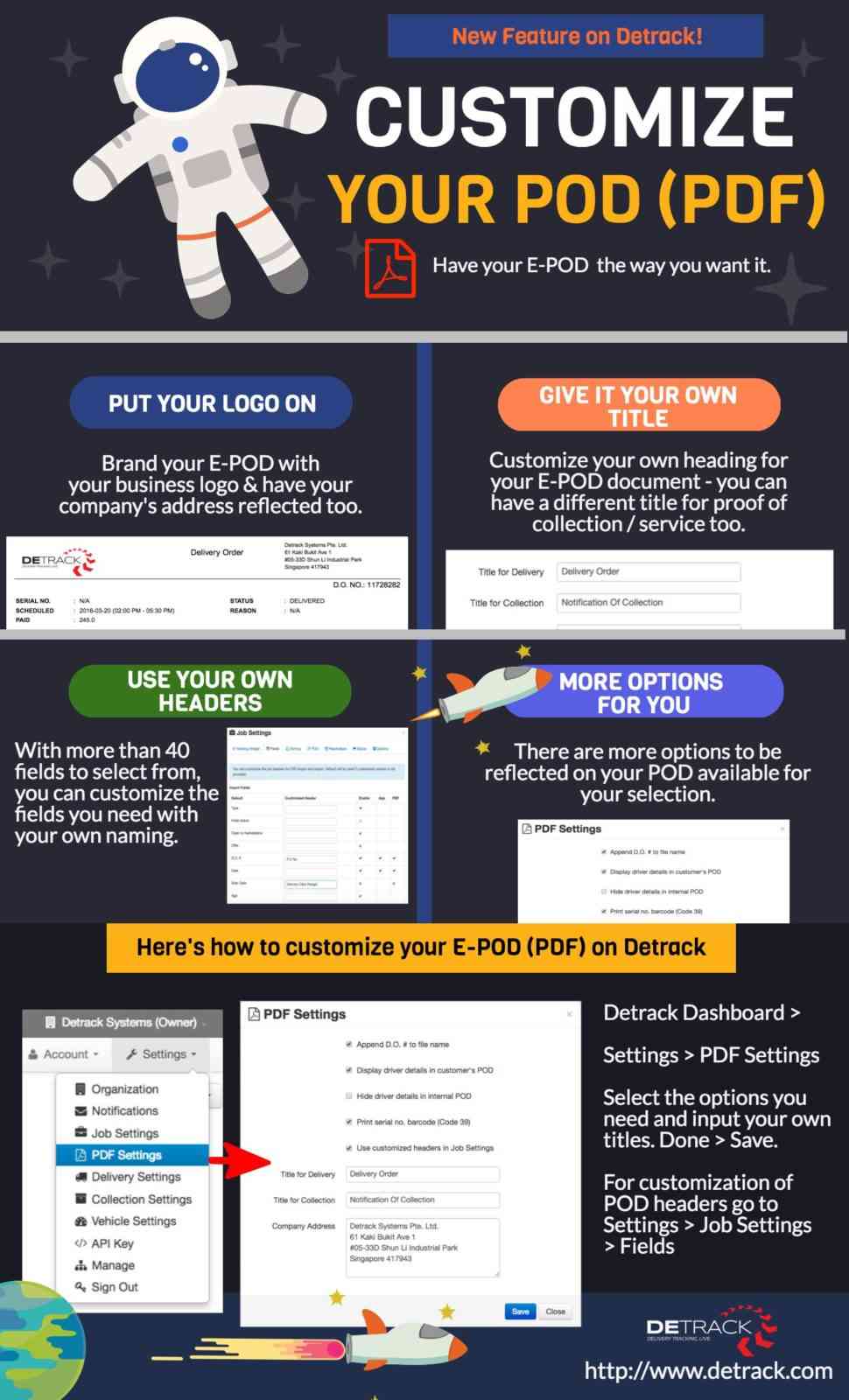 Here's more of what's new on Detrack:
– Detrack app has been translated into Traditional Hong Kong Chinese, Thai and Japanese – all 3 are now available on Google Play.
– Option to hide tracking status legend and customer name in tracking widget. To activate, go to Dashboard > Settings > Check "Hide Recipient Name" / "Hide Legend".
– The run sheet now includes the payment amount in a separate column and depot. Also, it will not show disabled fields too.
Before the end of April, we will have even more exciting news to share. Remember to stay tuned!
Cheers,
Team Detrack