Issue 43 – Detrack's Integration With Zapier
16 March 2020 |
2
minute
read
Do you love how easy it is to sell your products on Shopify and WooCommerce?
Love Detrack's delivery tracking?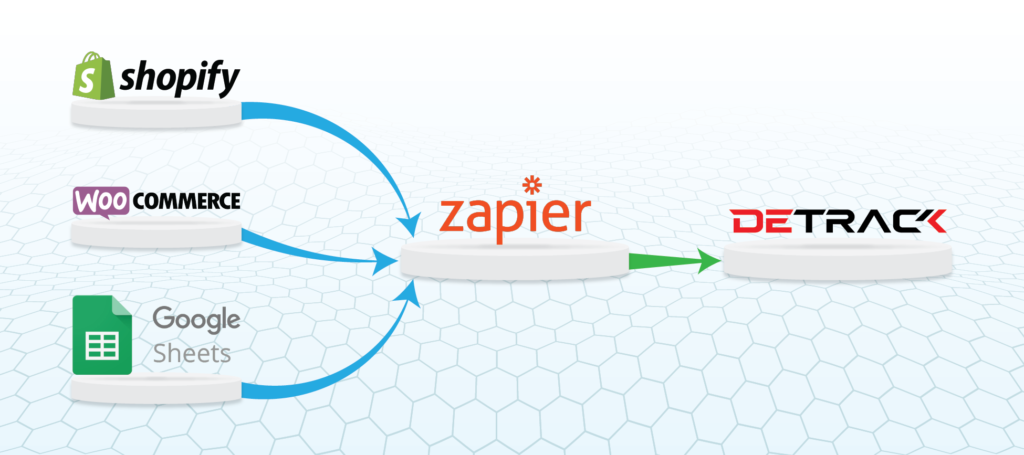 Zapier Integration
Thanks to our new integration on the Zapier platform, a powerful tool for automating workflows, it is now possible to have new orders from both Shopify and WooCommerce to be automatically posted as deliveries onto your Detrack Dashboard. All without manually importing and exporting files.
Goggle Sheets
And if you are currently using Google Sheets to manage your deliveries, we have good news for you too! We also have a Zap to integrate Google Sheets with Detrack, allowing you to automatically send your jobs data over.
If you're keen to use the Zaps, simply drop us an email at support@detrack.com to get an invite to access the Zaps now in closed beta.
Click the links below and check out the tutorials to get started on those Zaps!
Our latest integration with Zapier is just the beginning of what promises to be an explosive year for Detrack. We look forward to have you on board this exciting ride with us.
As always, if you have any questions or feedback regarding the integration, please get in touch with us at support@detrack.com

Connect with us
Get in touch with us today to seamlessly integrate Detrack into your currently workflow, and enjoy the full benefits of our solution including the live tracking of all your deliveries, automated notifications at various milestones, and our award-winning electronic proof of deliveries (E-PODs), among many other features.