5 Things You Should Look For in a POD App
13 October 2016 |
3
minute
read
A POD (Proof of Delivery) app can be pivotal in automating the way you have been managing your last mile delivery. If you have been suffering the frustration of having to deal with piles of paper delivery orders and handling endless calls from customers demanding to know where their deliveries are, you need to consider adopting a POD app.
Some benefits a POD App can bring you are:
Getting rid of cumbersome paper-based delivery orders
Being informed of delivery progress in real-time instead of having to call drivers
Getting hold of proof of deliveries that goes beyond what a paper delivery order can; e.g., photos, location and time of job completion
While there aren't too many POD apps out in the app stores, there are still a few that are worth considering. Here we take a look at the 5 most important factors to consider when choosing a POD app that would be most useful to you. Like most apps, we will naturally glance through the reviews it has received and how other users perceived it. Having a respectable number of downloads directly links to the stability of an app, and a stable app is more likely an easier app to use.
Apps with good reviews generally mean that it does what it promises to do – and more. Meaning a POD app will certainly provide users several features like the ability to generate electronic PODs (E-PODs), but how easy it is to actually use the app is a factor that would set it aside from its competitors. A basic capability of any POD app should be the ability to send notifications in real-time. Automatically generating E-PODs (in PDF format) in real-time allows users to have all stakeholders in a particular delivery updated on its progress. This feature would benefit the company greatly as the backend system of the business is constantly kept up-to-date, and there would never be a delay in-between delivery updates.
An app which provides automated pre-delivery, en route and post-delivery text messages or even e-mails to customers in real-time will also be more useful. This particular feature will benefit both recipients and the delivery drivers themselves as all stakeholders involved will know exactly where the delivery is at a particular moment, and when exactly the delivery will take place. The ability to send out information in real-time is especially useful for any time-sensitive delivery (fresh food, medical samples, etc.) when a recipient is needed right away.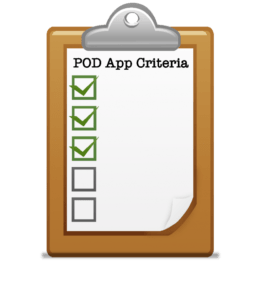 As a POD app, the capability to capture a recipient's actual signature is expected, but what would make an app stand out is the ability to capture various types of proof.
Being able to capture the exact time and geocode of a delivery would be extremely useful as this would help prevent many potential disputes and misunderstandings in the future. Businesses receiving goods may also need delivery companies to provide the ability to scan barcodes and even QR codes at times. If so, an app which provides this particular feature might be what you're looking for.
POD apps allowing customers to leave feedback after a delivery would also be a class act for companies looking to prevent problems, instead of solving them. Different industries have different requirements – fact. An app could cater for the needs of one company, but may not be able to for another. A POD app that could customize its behavior to cater to the needs of a company would score some serious app-brownie points among its competitors.
From temperature recording of the crates delivered to all photo proofs taken and be accompanied by a certain note before a POD can even be generated, the range of requirements among industries is massive. Therefore, a POD app that has customizable settings is crucial. Not everything is as simple as delivery sent, delivery received. When goods in a large scale are being delivered, they usually contain more than one type of product. What happens when only one type of product delivered is not successful, while the rest are? Does the entire shipment get rejected, and then re-sent?
A POD app which provides users the ability to cater to a diverse range of scenarios would be extremely practical. Users would be able to handle scenarios like partial delivery and multiple items, saving companies precious resources during the re-delivery process.
To start sourcing for a POD app for your delivery operations, you can look to Google Play Store and iTunes.
Remember to look out for an app that has both versions so that you can enjoy leveraging on your drivers' existing smartphones instead of having to invest in new ones.