The marketplace feature allows users to push jobs in their Detrack dashboard to their drivers' phones, for them to grab.
This feature caters for ad-hoc jobs or courier companies who wishes to push out the jobs to their drivers to grab.
This feature also allows users to set the offer fee tagged to the job being pushed to the marketplace for the drivers to view and grab. The marketplace feature will help you have your very own Uber like private marketplace.
Once the job has been grabbed by a driver, the Detrack dashboard will auto update the Assign to field to the name of the device.
Steps
Navigate to Settings > Delivery > Fields.

Enable Open To Marketplace > Save.

Go to Vehicles, click on the vehicle that you allow to grab marketplace jobs.

Click on Show Advanced Details and enable Can grab marketplace jobs. Click Save.

Go to Jobs > Calendar > click on date.

Click on Deliveries or Collections tab. Click Add Delivery or Add Collection form to appear.

Enable Open to Marketplace and Click on Save.
Ensure that the job is not assigned to any Driver. The job will now appear on the Driver's app under marketplace for the drivers to grab.
Importing Jobs Into The Marketplace
For importing Marketplace jobs via Excel / CSV, create a column named Open to marketplace and input value of 1 or Y for jobs that you wish to open to drivers to grab and 0 or N for jobs that you do not want to open up to the marketplace.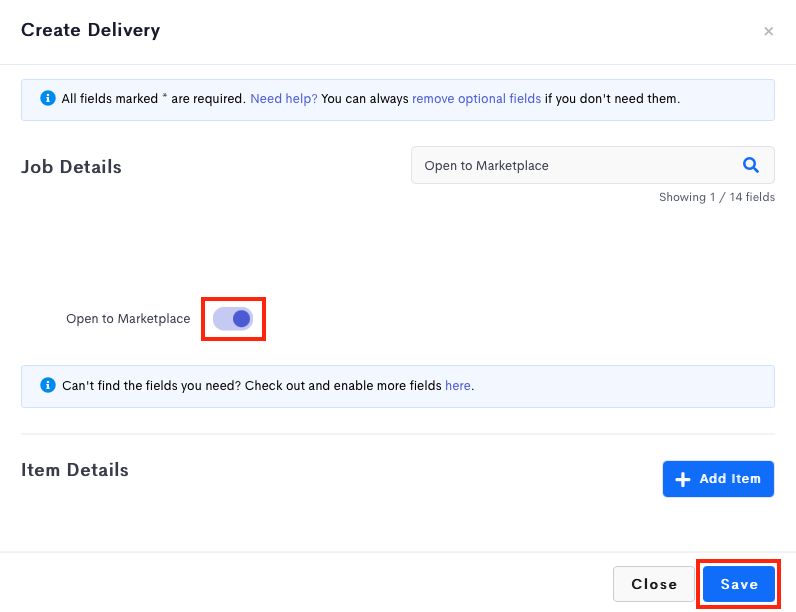 or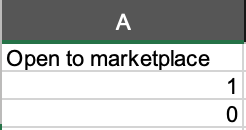 If you wish to import the job fee for the marketplace jobs, create a column named Marketplace Offer and input the amount corresponding to the job. Note that once the Excel or CSV file is uploaded with marketplace jobs, the jobs will immediately be sent to the drivers' smartphones, hence the timing of the uploading needs to be considered.
Enabling Marketplace For All Jobs
For default enabling of the marketplace feature for all of your jobs, navigate to Settings > Delivery/Collection > Scroll down to the bottom of the screen > Switch on Open To Marketplace > Save.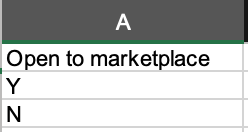 Related Articles