Impress Your Customers With Tap To Track
Want your customers to track their own deliveries so that they won't have to call customer support? Why not go one step further and impress them with the experience of seeing their deliveries come to them LIVE on a map – Uber-style!
---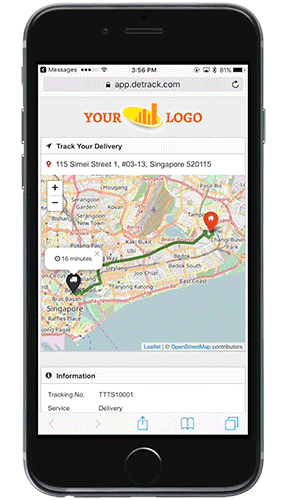 With Tap To Track, your customers will know when their deliveries will arrive at their doorsteps… down to the seconds.
---
The benefits of Detrack delivery tracking system is multifold: ease of use, cost-effective and providing real-time information and intelligence to facilitate job coordination to our CS Team and any interested parties thereby improving overall customer service level.

The Tap To Track function adds another layer of customer satisfaction through its provision of Uber-like visibility via customers' mobile gadgets.

The team at Detrack is extremely helpful. It is indeed a delight to work with all of you!
Everything is working perfectly. And for us, Detrack seems to be one of the best solutions for B2C deliveries. It really took our business to next level!

Thanks to Detrack, we are the first company in Finland who are sharing driver's location to end-customers.

Detrack has brought us many new customers, and growth is not stopping!
Totally amazing app. This is a game changer especially for SME's in the last mile transportation industry. If there is more to come I can't wait. This app singlehandedly made a difference in how we operate and how customers dealt with us. The app was easy for our drivers to use and the dashboard was quick and easy to customise for our business.

Customers loved the fact that they got notifications of their delivery and the details of it almost in real time.

Detrack customer service is amazing. Completely helpful to the very end. If you are in the transportation business install it and use it. You can't go wrong. Looking forward to the added features yet to come, though I can't think of what else needs to be added."
---
---