Exclusive Deals For Singapore Food United Members
28 April 2021 |
2
minute
read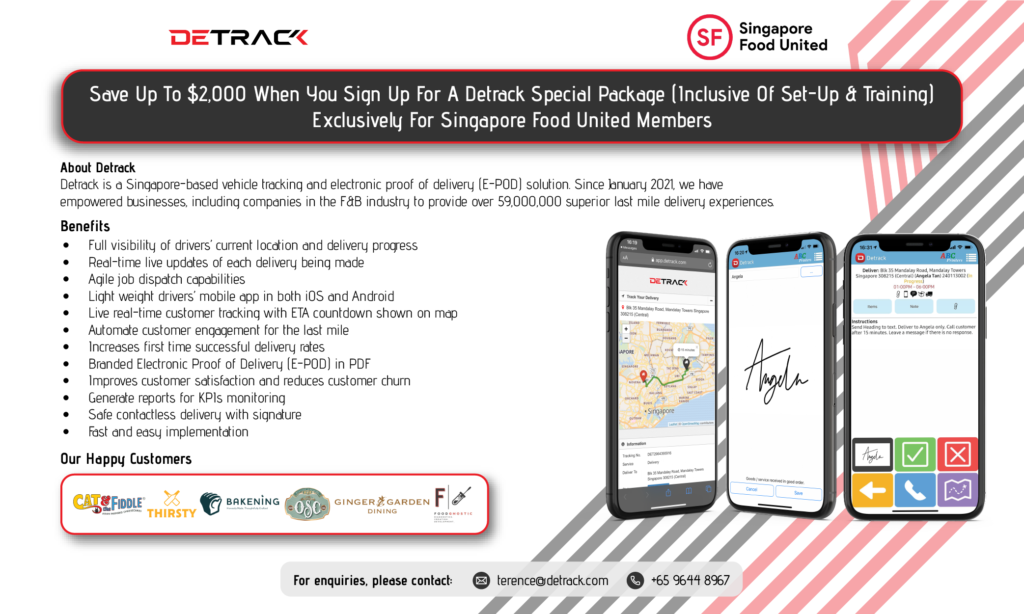 Detrack is proud to announce our partnership with Singapore Food United, giving their members exclusive last mile delivery tracking and electronic proof of delivery (E-POD) benefits.
What is Singapore Food United?
Singapore Food United is the first local E-commerce platform initiated by local food manufacturers, and endorsed by the Singapore Food Manufacturers' Association (SFMA).
Launched in 2020 during the COVID-19 pandemic period, the platform is dedicated to supporting local food manufacturers & brands to provide customers with fresh and trusted source of online food supplies.
How can Detrack benefit Singapore Food United members?
From having full visibility of drivers' exact location and delivery progress, to generating reports for KPIs monitoring, members can look forward to a long list of benefits when onboarding the Detrack solution.
With Detrack, users can let their customers track their deliveries live on a map, complete with an ETA countdown. Why is this important? It reduces customer support as they are able to constantly keep themselves updated regarding the delivery without the need to get in touch with your CS team.
From real-time tracking to agile job dispatch to generating electronic proof of deliveries (E-PODs) in real-time that captures customer's signature, exact time and location of job completion, photo proofs and more, you will be able to digitize and automate your last-mile delivery operations.
Detrack Special Packages Pricing
Detrack has prepared special packages (discounts worth up to $2,000!), which includes personalized account setup and training, exclusively for Singapore Food United members.
For any Partnership Package enquiries, please contact our Business Development Manager: terence@detrack.com. We look forward to connecting with you.

Start now
Get started now and sign up for a FREE Detrack account to start digitizing and automating your last-mile delivery operations for your F&B business.