$100 Detrack Credits Free When You Subscribe This Black Friday
25 November 2019 |
< 1
minute
read
A season of giving
We believe businesses around the whole, regardless of size, should have access to the most innovative technology available to power their last-mile deliveries – all at an affordable price.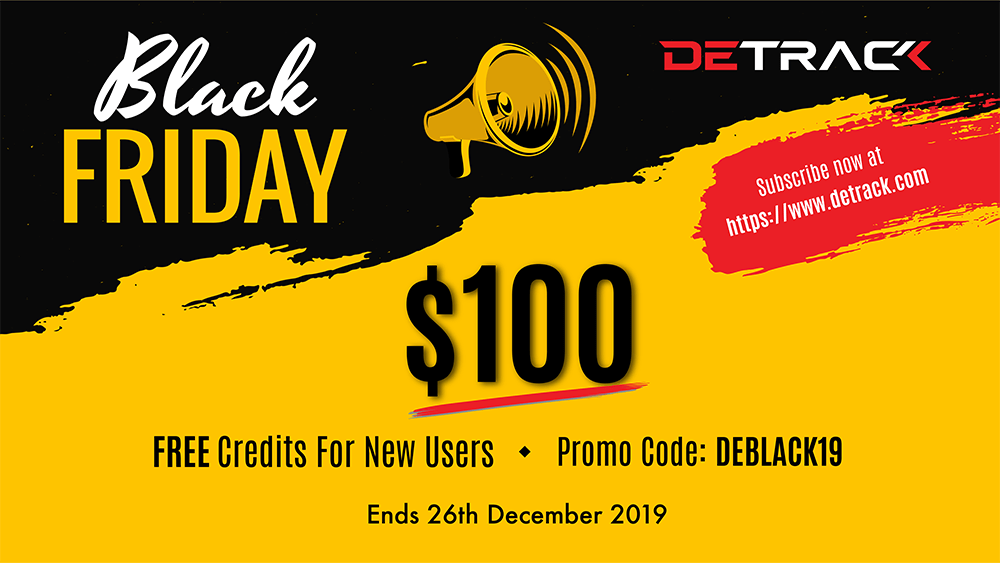 Black Friday Debut
So this year, Detrack is offering our very first Black Friday & Cyber Monday promotion.
Earn yourself USD$100 worth of credits (that's up to FIVE months free for a driver!) right now when you purchase your first subscription from a new Detrack account.
Use the promo code DEBLACK19 when you purchase your first subscription and receive USD$100 worth of Detrack credits in your account. Offer ends on 26th December 2019.

Find out more
You can also contact us today to find out how you can enjoy the full benefits of Detrack, including the live tracking of all your deliveries, automated notifications at various milestones, and our award-winning electronic proof of deliveries (E-PODs), among many other features.
---
Terms & Conditions
Email billing@detrack.com with details (1 & 2) below to enjoy the promotion
1. Promo code: DEBLACK19
2. Email address for Detrack account
Credits can be utilized with new purchases made from 25 Nov to 26 Dec 2019
Credits valid for 26 weeks. All unused credits will be removed on 1 May 2020